Encore Capital Group Reports Quarterly Revenue, Net Income Growth
Thursday, May 9, 2019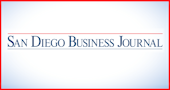 San Diego-based financial services firm Encore Capital Group Inc. announced a 9% increase in year-over-year revenue May 9. The firm said total quarterly revenues reached $345.7 million, while revenue adjusted by allowances reached $347.1 million.
Encore Capital Group (NASDAQ: ECPG), which specializes in debt recovery services, said quarterly net income reached $49.4 million. The company reported earnings per share of $1.57 for the quarter.
Encore Capital's first quarter income for 2018 reached $21.8 million while earnings per share reached 93 cents.
"Collections growth continues to be driven by our focus on operational innovation and increased productivity, resulting in record global cash collections and a further shift toward our call center and digital collections channel in the U.S.," Ashish Masih, Encore Capital president and CEO, said in a prepared statement. "In addition, global portfolio purchases totaled $262 million in the quarter. We allocated approximately 98% of the capital we deployed in the first quarter to the U.S. and the U.K. debt purchasing markets, where we have scale advantages, leadership positions and the opportunity to earn the highest risk-adjusted returns relative to other markets."
Encore Capital said its U.S. business unit, known as Midland Credit Management, increased collections by 10% year-over-year to $330 million. The financial services firm completed the sale of its stake in Refinancia, a debt purchaser in Colombia and Peru, in December. The firm acquired a controlling stake in Refinancia in February 2014.