Abide Therapeutics Acquired for $250 Million Upfront
Monday, May 6, 2019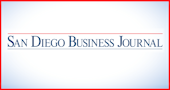 In search of therapies for brain diseases, Lundbeck will pay $250 million upfront to buy San Diego's Abide Therapeutics.
Abide, a spinout of Scripps Research, is eligible for an additional $150 million in sales and regulatory milestones.
Denmark-based Lundbeck gained ABX-1431, Abide's lead candidate that's in a phase 2a clinical trial for Tourette syndrome and a phase 1 trial for neuropathic pain. Beyond ABX-1431, Lunbeck sees a range of possibilities in Abide's technology.

Abide's pipeline targets serine hydrolases, a class of enzymes that play a role in blood clotting, digestion, nervous system signaling, inflammation and cancer.
Co-founded in 2011 by Benjamin Cravatt of Scripps Research, Abide's lab will become a U.S. drug discovery hub for Lundbeck.
"We can continue to leverage the insights of Ben Cravatt's laboratory at Scripps Research and maintain our outstanding discovery team," said Alan Ezekowitz, CEO of Abide, which has about 40 employees.