USD Students Devise Winning SPAWAR Plans
Sunday, May 5, 2019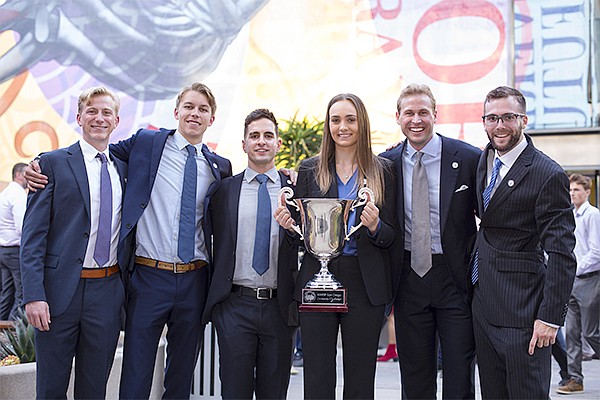 Students from the University of San Diego's Burnham Moores Center for Real Estate did it again — winning top place in a real estate design competition, this time NAIOP's University Challenge 2019.
A USD team won the NAIOP competition in 2017, and graduate students from the school in April won the 2019 ARGUS University Challenge for the seventh time in the competition's 10 years, outperforming teams from Harvard University, Columbia University and Cornell University, among others.
Making up the USD undergraduate team were Alex Baracchini, Zachary Burns, Mitch DiLorenzo, Claire Hunn, Alex Spangler and Ryan Todd.
Also competing were teams from San Diego State University's Corky McMillin Center for Real Estate and UC San Diego's Department of Urban Studies and Planning.
The challenge was to devise the best redevelopment plan for a 48.7-acre eastern portion of SPAWAR (Space and Naval Warfare Systems Command).
The USD students came up with a $1.6 billion plan for a nearly 4.2 acre portion of the SPAWAR site that was comprised of a variety of housing, including market rate, subsidized affordable housing and micro-units for military personnel.
Dubbed Delta District, the plan also included a hotel, retail and office space, a hub for veteran services, a gaming center and a 154,000 square-foot innovation center for education and technology uses.
"From the beginning, we set a mission to promote San Diego culturally, socially and economically," DiLorenzo said. "This was a remarkable learning experience for each of us on the team."