Groups Combine to Better Connect With Startups and Investors
Sunday, May 5, 2019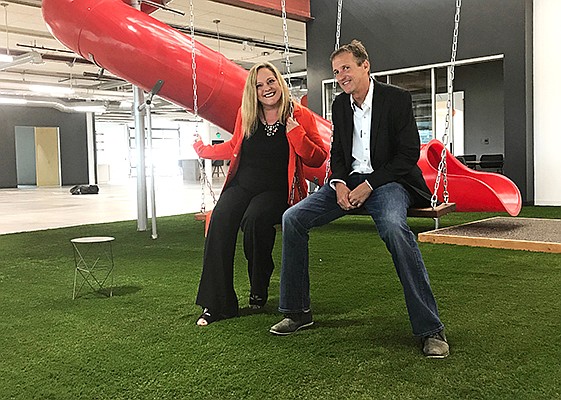 Two startup organizations with a long history in San Diego have tied the knot. Connect, San Diego's oldest startup accelerator and San Diego Venture Group merged on April 25.
The new organization, Connect with San Diego Venture Group, will be led by CEO Mike Krenn and Chief Operating Officer and President Silvia Mah. The new nonprofit also moved into an office in UTC, at the former iBoss headquarters at 4110 Campus Point Court.
For the last few years, the two organizations had been in discussions about potentially coming together. When Connect named Tim Scott as chairman in November, those conversations began to accelerate. Months later, in March, Mah was named president of Connect, after Connect CEO Greg McKee left to start a new venture capital fund.
"You have a new board chair, and an exiting CEO; what do you do at that point? You can look for a new CEO and bring them in, or you can rethink what Connect is and what it should be," Scott said. "Today, it's a different world than when Connect first started in 1985. We have 400 new startups every year, and more than 100 organizations supporting these entrepreneurs."
Scott wanted to broaden Connect's mentoring, support startups in raising capital, and collaborate more with other startup organizations in San Diego. It made sense to bring in San Diego Venture Group, given its success in drumming up more venture capital for local startups, and when it came to knowing how to coach startups at a variety of stages, Scott said Mah was the perfect fit.
The merger should provide both organizations with more resources, while allowing them to play to their strengths. Connect will continue to offer its Springboard accelerator program, and Mah will continue her work in identifying and mentoring promising early-stage companies. At the other end of the funnel, Krenn and San Diego Venture Group will help connect companies with local investors and out-of-town venture capital firms.
"That's the value proposition at the end of the day," Krenn said. "It provides a place where entrepreneurs can go. Hopefully, we can be that sort of hub in the community."
Both Krenn and Mah are well-known leaders in the San Diego startup community. The two have known each other for a long time, and see eye-to-eye on how to help startups in San Diego, they said. Krenn, head of San Diego Venture Group, has helped more than 50 startups raise more than $200 million. He also helped found Tech Coast Angels and CommNexus.
Mah founded business accelerator Hera Labs, which has graduated more than 132 startups to date. Last year, she helped create Ad Astra Ventures, a program that provides funding and mentorship to high-growth, female-led startups.
"We want to make sure we allow San Diego to grow, and break down silos between different organizations," Mah said. "I see the next tier as just exponential growth of what we're already doing. Having an entrepreneur (Tim Scott) as one of our leaders allows us to think outside of the box as an organization, and allows us to take on the role of listeners, advocates and connectors."
The two teams met for the first time together in late April. While both companies are relatively lean, Connect and SDVG will also merge their boards, which feature dozens of leaders in the local tech, biotech and startup communities.
"For the near-term, we plan to just keep the whole board together," Krenn said. "It seems a little counterintuitive, but I like the idea of having access to all of those people. To be able to pull on that group of people is a very valuable resource."
Though they're just getting started, Krenn hinted at a few big projects to come for the combined groups. One of them, he said, would be related to attracting more talent to San Diego.
In the meantime, he's focused on connecting 100 venture capital firms that will be visiting town the week of May 6 to meet with promising startup companies.
"We want to be able to do a better job of sourcing and getting deal flow so they keep coming. We do not want to be complacent," he said. "The funding environment feels pretty healthy. I think there's a tendency for people to get a little complacent when times are good. We are committed to not letting that happen."