Acadia Pharmaceuticals Reports $85.3M Loss in Q1
Sunday, May 5, 2019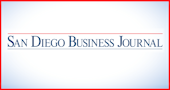 In first quarter results, Acadia Pharmaceuticals recorded an $85.3 million operating loss due to the company spending more on clinical research and marketing.
By comparison, Acadia posted a $54.3 million loss during the first quarter of 2018.
Acadia, one of the few San Diego companies self-commercializing a drug, spent $93.1 million on selling, general and administrative expenses. That was a 52 percent increase compared to the prior year period.
In 2016, Acadia's drug nuplazid won approval to treat hallucinations and delusions caused by Parkinson's disease. The company wants to expand nuplazid into other indications, including major depressive disorder, explaining research and development costs increasing 34 percent year over year to $52.9 million.
Revenue is also on the rise. Nuplazid posted $63 million in first quarter sales, a 29 percent year-over-year increase.
The company lifted the floor of its full-year revenue estimate to a range of $280 million to $300 million. Previously Acadia estimated revenue would be a minimum of $275 million.