AMN Healthcare Plans $200M Acquisition
Thursday, May 2, 2019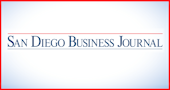 AMN Healthcare is the nation's largest health staffing firm. And, it's poised to get bigger.

The San Diego company agreed to pay $200 million for Advanced Medical Personnel Services, which places contract therapists and nurses in hospitals, schools, skilled nursing homes and other facilities.
In addition, Advanced Medical recently launched a platform serving children in large school districts through on-site and telehealth therapists.
AMN could pay up to $20 million more for Advanced Medical, depending on the company's 2019 financial performance.
Susan Salka, president and CEO of AMN, said in a statement the deal expands AMN's footprint in fast-growing care settings, including schools. She also noted the potential of Advanced Medical's telehealth platform.
Advanced, a private company based in Florida, forecasts revenue of $140 million this year, according to the companies. Earnings before interest, tax, depreciation and amortization, or EBITDA, is estimated to reach $20 million.
In February, AMN reported $2.13 billion in 2018 revenue, its largest segment being travel nursing. Staffing Industry Analysts consistently ranks AMN as the U.S.'s largest health staffing firm.

The deal is expected to close by June.