NuVasive Reports 5.5% Q1 Revenue Increase
Wednesday, May 1, 2019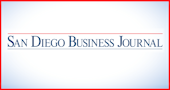 NuVasive reported first quarter revenue of $274.8 million, a 5.5% year-over-year increase.
Net income was $9.4 million, or diluted earnings per share of $0.18, according to the San Diego medical device company. That compares with a $27.1 million loss during the first quarter of 2018.
"In the first quarter 2019, NuVasive delivered a solid start to the year with focused execution across our U.S. spinal hardware, U.S. surgical support and international businesses," said CEO Chris Barry. He added the company wants to drive profitability while investing in key areas.
One being the recently launched X360 system for what's called lateral single-position surgery. This enables lateral surgery without having to reposition the patient, speeding up surgery time.
NuVasive posted $200.3 million in gross profit, with a 72.9 percent gross margin. During the prior year period NuVasive's gross profit was $186.7 million, equating to a 71.7 percent gross margin.