Axos Financial Reports Quarterly Asset Growth
Wednesday, May 1, 2019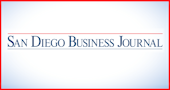 San Diego-based Axos Financial reported a 9.8 percent growth in total assets during the first three months of the year. The parent company of Axos Bank attributed the growth in total assets to closing on the acquisitions of COR Clearing, MWABank and WiseBanyan.
Year-over-year earnings per diluted share fell by 21.3 percent for the quarter from $0.80 to $0.63. The financial services firm reported a 24.3 percent decrease in net income from $51.2 million to $38.8 million.
"The additions of lower-cost deposits from these and prior acquisitions helped increase our banking business unit net interest margin by 14 basis points year-over-year to 4.94 percent," Axos President and CEO Greg Garrabrants said in a prepared statement. "Strong loan originations in our commercial and industrial, commercial real estate and multifamily businesses were partially offset by elevated payoffs in our lender finance book and subpar loan production in our single family jumbo mortgage group."
Net interest income for the quarter reached $129.2 million, while non-interest income reached $26.1 million for the bank. Axos said net interest income increased 10.7 percent year-over-year primarily due to an $857.5 million growth in average-earning assets. Non-interest income grew by 10.9 percent year-over-year.
The financial services firm said its equity to asset ratio at the end of the quarter was 9.56 percent and marked a year-over-year decrease by 51 basis points from 10.7 percent.