New CEO Appointed at Epic Sciences
Sunday, March 31, 2019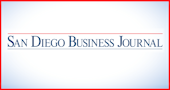 Lloyd Sanders, previously with Myriad Genetics, has joined Epic Sciences as CEO.
Murali Prahalad, who had the gig for six years, stepped down to pursue other opportunities, according to a March 25 news release. But he'll remain involved with Epic as a board member.
Sanders was previously the president of the oncology segment of molecular diagnostics company Myriad Genetics. Prior to this, he was the chief operating officer of Dey Pharma, a division of Mylan, best known for the EpiPen brand.
Epic's portfolio of tests guide cancer doctors deciding on a treatment path, including a test on the market for advanced prostate cancer.
"The trajectory has been set for significant commercial growth through Epic's portfolio of high-value liquid biopsy tests and expansion into breast cancer, immuno-oncology and global markets," Chairman Gregory T. Lucier, said in a statement.
Last September, Epic raised a $52 million Series E round.
Epic's proprietary technology employs machine learning and computer vision to identify rare cancer cells in the blood and the immune system's response.
Its tests, Prahalad told the San Diego Business Journal in September, are more predictive and give clearer answers than purely DNA-based tests. As such, they aim to cut down on superfluous testing.