HCAP Partners Invests in San Diego Lab Testing Company Confirm Biosciences
Sunday, March 31, 2019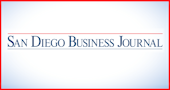 San Diego-based private equity firm HCAP Partners has invested in Confirm BioSciences, a local, woman-owned company that provides diagnostic testing and wellness solutions. Founded in 2008, Confirm Biosciences handles all steps of drug and wellness kit testing, from sourcing and selling products to providing customer support and vendor feedback.
HCAP Partners Managing Partner Tim Bubnack and Senior Associate Bhairvee Shavdia led the investment. The companies did not disclose terms of the deal.
"Confirm BioSciences is poised for significant growth," Bubnack said in a news release. "The company has developed a strong sales pipeline and has a proven track record of building innovative services. In addition, Confirm BioSciences' emphasis on workplace culture directly reflects HCAP's focus on quality jobs. We are excited about the future of this partnership."
The company was also a fit for HCAP's Gainful Jobs Approach framework, which seeks to support companies that will create high-quality jobs. Those attributes include employees stock bonuses or 401(k) matching, sustainable salaries, opportunities for advancement, good health benefits and wellness initiatives.

"The team at Confirm BioSciences is strongly committed to our mission to help create drug-free homes, workplaces, and environments," Zeynep Ilgaz, co-founder and CEO of Confirm BioSciences, said in a news release. "Our partnership with HCAP Partners will provide additional strategic value and resources to help continue our momentum and scale our business."
John Vance of MedDx Capital Advisors supported HCAP in its due diligence leading up to the transaction.