Guild Mortgage Sets Records in 2018
Thursday, March 28, 2019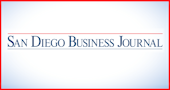 Guild Mortgage, the independent lender based in Kearny Mesa, reported record results for 2018.
Total loan volume for the year was $16.53 billion, surpassing the company's banner year of 2016, when it did $15.97 billion worth of business. The 2018 numbers were an increase of 3.7 percent over the $15.94 billion worth of business in 2017.
Servicing for 2018 grew 18.5 percent to $45.69 billion, up from $38.55 billion at the end of 2017.
Guild's purchase loan business hit a record $13.96 billion in 2018, up 10.2 percent from $12.67 billion in 2017.
Guild tallied its record results as the overall market slowed. U.S. mortgage originations fell 6.8 percent from $1.76 trillion in 2017 to an estimated at $1.64 trillion in 2018, according to the Mortgage Bankers Association.
Loan servicing at Guild grew 18.5 percent from 2017, to $45.69 billion in 2018.
As interest rates rose, Guild's refinance business fell by 22.5 percent to $2.44 billion.
The company reported its results on March 28.
In early March, Guild announced that it gained a presence in Wisconsin by opening a branch in the state capital of Madison and a satellite office in Baraboo.