Biolinq Raises $4.75M in Extended Series A
Thursday, March 28, 2019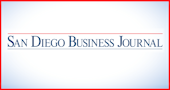 Biolinq hauled in $4.75 million to bring its series A round to $15 million, the glucose monitoring company announced March 28.
The funding is going toward San Diego-based Biolinq's first product that claims to monitor blood sugar levels sans the pain or hassle of existing technology on the market. Users wear the company's biosensor patch, which analyzes biomarkers in a thin layer of fluid surrounding the body's cells.
Founded in 2012 as Electrozyme, the company wants to develop several products. Last year, the company completed a clinical study.
"We are impressed with the initial clinical results Biolinq has achieved with their very promising technology," said Katie Ellias, managing director at the JDRF T1D Fund, which led the $4.75 million round extension, along with Aphelion Capital and LifeSci Venture Partners.
It appears the technology would put Biolinq in competition with Dexcom, a San Diego company that's a major player in the diabetes space.
In November 2017, Biolinq raised $10.25 million.