GA Tests System That Could Propel Underwater Vehicles
Wednesday, March 27, 2019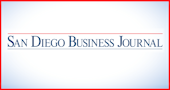 General Atomics' Electromagnetic Systems unit reported in early March that it successfully demonstrated an aluminum power system for an unmanned underwater vehicle.
The first end-to-end demonstration of the power system, or ALPS, was in a test tank in San Diego. The system provided hydrogen and oxygen to a Teledyne Energy Systems fuel cell, which provided electricity to propel the vehicle.
"This demonstration marks a major milestone for us, illustrating for the first time that ALPS can be successfully integrated to supply hydrogen and oxygen to fuel cells to generate electrical power and drive an underwater vehicle," said Scott Forney, president of GA-EMS, in a statement distributed by the company.
"ALPS is a unique, high energy density system intended to provide up to 10 times the energy output of similar battery volume. With its unlimited shelf life, safe handling and high energy density, ALPS can truly enable underwater 'refueling stations' to support long-term underwater vehicle operations."
GA said the system could be used in manned vehicles, and was suitable for long-endurance missions.
General Atomics, based on Torrey Pines Mesa, is privately held. It is developing the technology for the Office of Naval Research.