Turning Point Therapeutics Seeks $100 Million in IPO
Monday, March 25, 2019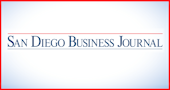 Cancer drugmaker Turning Point Therapeutics recently filed paperwork calling for a $100 million initial public offering.
The company's platform looks to treat tumors with resistance to existing cancer therapies. Its lead drug candidate, repotrectinib, is undergoing a phase 1/2 clinical trial, with plans for a phase 2 trial in the second half of the year.
San Diego-based Turning Point wants to tackle enzyme mutations that can hinder cancer treatments.

The company's drugs "may address the key issues of emerging treatment resistance and toxicities that limit duration of treatment. Our platform allows us to rapidly identify new drug candidates for development," stated the company in paperwork filed with the U.S. Securities and Exchange Commission.
IPO proceeds would also fund preclinical programs.
Last October, Turning raised $80 million, and at the same time named Athena Countouriotis as CEO. The company was founded in 2013 as TP Therapeutics, changing its name in November to Turning Point Therapeutics.