TECH: RISING TECH SCENE AND LOWER COST OF LIVING DRAWS CO.
Startup Comma.ai Moves Its Headquarters to San Diego
Sunday, March 24, 2019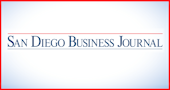 Comma.ai, a startup developing driver assistance systems for everyday vehicles, has moved its headquarters from San Francisco to San Diego.
In a March 13 blog post, CEO Riccardo Biasini announced the company's big move, precipitated by rising rent prices in San Francisco. He estimated the move would decrease employees' cost of living by 42 percent.
Biasini said the company had been weighing a move to either Los Angeles or San Diego before deciding on America's Finest City. Specifically, the team picked San Diego for its quick access to downtown, beaches and the airport, and close proximity to several universities.
"I individually talked with each of the 12 comma employees and, not too unsurprisingly, nobody was opposed to the move. Actually, almost everyone was very excited to leave the Valley," Biasini wrote. "There is a rising tech scene and Qualcomm is close by."
The 12-person company now calls Little Italy home, where it will continue to grow its business. Comma.ai is currently hiring for eight positions, and Biasini said it should have enough space to grow for two years.

While automakers are working to incorporate advanced driver assistance systems into vehicles, it takes years for those features to go to market, and even longer before they're bought up by consumers in need of a new car.
Instead, Comma.ai builds open source software that helps bring these features to vehicles that are already on the road. Its software doesn't do all of the driving, but is currently designed to assist with lane-keeping and maintaining a safe distance behind other vehicles. The company says its software is compatible with most Honda and Toyota models, and a selected set of Lexus, Acura, Hyundai and Chevrolet models.
Commai.ai sells dashcam kits that can be retrofitted to popular car brands to allow for semi-autonomous driving. They retail at a much lower price than a new car, too, at just under $500.