SDBJ Insider: Padres Can Toast 50 Years With Swingin' Friar
Sunday, March 24, 2019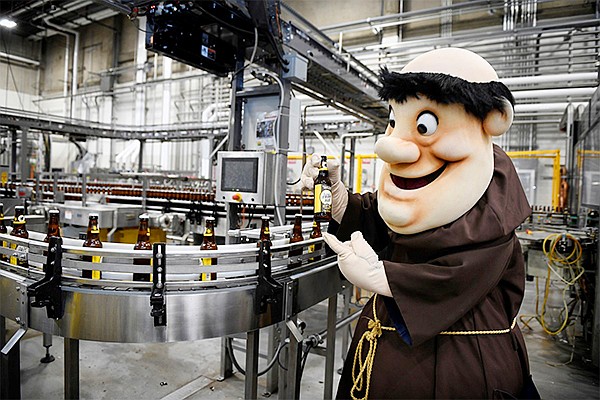 The San Diego Padres will commemorate 50 years in the city this year.
To mark their golden jubilee as a Major League Baseball franchise in San Diego, the Padres and their longtime partner Ballast Point have unveiled a new addition to the brewery's lineup of beers: the Swingin' Friar Ale. Named after the Padres' Friar mascot, the beer will be available at Petco Park and throughout the city.
The Padres have left an indelible mark on San Diego in half a century. The team's move to Petco Park made it the key player in revitalizing East Village, a catalyst to further developing downtown and making San Diego a big league city in many respects beyond sports.
The Padres, who finished last in the National League West division last season, have made two trips to the World Series, in 1984 and 1998. The team was central to the careers of slugger Tony Gwynn, pitcher Trevor Hoffman, and the San Diego Chicken.
The Padres' $300 million man, Manny Machado, a four time All-Star infielder, is expected to be in the lineup come opening day, March 28. In February, Machado and the Padres agreed to a 10-year deal.
• • •
Three San Diego breweries have made the Brewers Association's annual list of the top 50 producing craft brewing companies based on beer sales volume in the U.S.: Stone Brewing Co. came in at No. 9, Karl Strauss Brewing Co. at No. 40 and Modern Times Beer took the No. 45 spot.
D.G. Yuengling & Son Inc., based in Pottsville, Pennsylvania, came in at No. 1.
The Brewers Association is a national, nonprofit trade group that represents small and independent craft brewers. The group also released a list of the top 50 overall brewing companies in the country. While 40 on that list were small and independent craft brewing companies, the top spot went to St. Louis, Missouri-based Anheuser-Busch Inc.
• • •
Geoffrey Kasselman, the executive managing director of commercial real estate advisory firm Newmark Knight Frank and immediate past president of the Society of Industrial and Office Realtors, will kick off the Burnham-Moores Center for Real Estate at the University of San Diego School of Business's 23rd Annual Real Estate Conference March 28 at the Hilton San Diego Bayfront.
Kasselman's presentation is titled "The Exponential Future of Everything" and he will review disruptive changes, according to a news release. More than 600 real estate professionals are expected to attend the conference.
Managing Editor Stephen Adamek, Special Sections Editor Brad Graves and staff writer Mariel Concepcion contributed to this report.