Local Apartment Rent Increases Were Out of Fast Lane in February
Sunday, March 24, 2019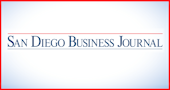 San Diego apartment rents in February grew at the slowest rate in six years, according to a report from a national property management and real estate software company.
The San Diego rental market has slowed a bit, but only to the point that San Diego is on a par with the rest of the nation when it comes to how fast rents are rising, but they do continue to rise, according to RealPage.
"The overall growth outlook is still healthy," said Greg Willett, chief economist at RealPage. "There's still really strong fundamentals in the San Diego marketplace. It's certainly a place that's going to continue to appeal to investors."
Rental growth fell to 3.1 percent in San Diego in February compared with a national average of 3.2 percent and a February 2018 growth rate of 4.6 percent.
"I think that's not surprise to most people who would be investing," Willett said. "You can't stay at that 4 percent to 5 percent forever. Our near-term outlook would really call for more of the same, growth around that 3 percent mark."
Even though the pace of rent increases has slowed, San Diego monthly rents were running at an average of about $1,948, according to RealPage, about $600 above the national average of $1,362.
Occupancy also dropped slightly in February to 95.9 percent, down from 96.3 percent in February 2018. The national average was 95.2 percent.
RealPage attributed the falling growth rate and dip in occupancy to a rash of new apartment projects coming to market.
About 4,200 new apartments have become available over the past 12 months and about 2,600 have been rented as of February, RealPage reported.
The firm projects about 3,850 new apartments would be available by February 2020.