Beta Wealth Group Launches New Institutional Investment Division
Sunday, March 24, 2019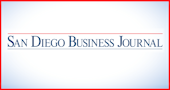 Beta Wealth Group, a San Diego-based financial advisory firm, created a new institutional investment division. The company announced the launch of Beta Asset Management on March 22, giving institutional investors access to its options overlay strategy.
After implementing the strategy nearly 10 years ago, CEO Jodi Vleck decided to spin it out into its own division after receiving requests from other wealth managers and institutions. The company hired Ryan Ballantyne to serve as director of business development for the new entity.
The growing firm plans to move into a new office space next week.