Sharp HealthCare Wins Hearst Prize for Palliative Care Program
Thursday, March 21, 2019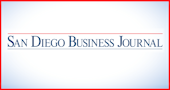 A Sharp HealthCare program that delivers palliative care at home captured the 2019 Hearst Prize.
The Hearst Prize competition, funded by the Jefferson College of Population Health and Hearst Corporation, looks to spread best health practices. By coming in first, Sharp Healthcare won $100,000.
Called Sharp Transitions, the program's mission is to relieve suffering for patients with advanced and progressive chronic illness, but who aren't ready for hospice care. Bringing care to homes has decreased inpatient hospital mortality, emergency visits and hospitalizations, all while reducing patient costs, according to Sharp.
Applications were scored on factors like health outcomes, innovation and scalability.
"Providing proactive, team-based, comprehensive care management in a home-based setting is the future of healthcare for patients with serious illness," said in a news release Suzi K. Johnson, vice president of Sharp Hospice and Palliative Care.