SDC Cannabis Company Acquired by Canada's Next Green Wave
Thursday, March 21, 2019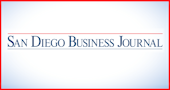 SDC, a San Diego-based cannabis consumer product goods company, has been acquired by Next Green Wave, headquartered in Canada, for $27 million. According to a press release, the company has been rebranded as WeareSDC and, as part of the transaction, all members of the SDC team will immediately become the head of the Next Green Wave extraction and manufacturing unit.
"This transaction will allow the SDC team to capitalize on its decades of cannabis expertise in California and to rapidly expand our brands, distribution channels and manufacturing expertise across the state and into international markets," Ryan Lange, SDC co-founder, said via a statement.
SDC will introduce over 30 different types of extraction-based products across its eight Next Green Wave brand partners, which include Thorn Brewing and Toy Machine Skateboard Co. SDC has 45 CBD and THC products, including vape cartridges, ice water hash, tinctures, dog products and CBD wellness and recovery products.
SDC products are currently sold in 700 Zumiez stores.
Travel & hospitality reporter Mariel Concepcion can be reached at mconcepcion@sdbj.com or 858-634-4625.