San Diego Voted 7th Worst City for First-Time Home Buyers
Wednesday, March 20, 2019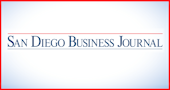 Bankrate, a financial products company, rated the best and worst metro cities for first-time home buyers and San Diego came in at the No. 7 on the worst list.
The ranking, which looked at the 50 largest metro areas, was based on affordability, culture, housing market tightness, job market and safety, among other measures.
Pittsburgh, Pennsylvania, came in at No. 1 for the best metro for first-time buyers while California cities like San Francisco, Los Angeles, Sacramento, San Jose and San Bernardino all made the top 10 of the worst list.
Travel & hospitality reporter Mariel Concepcion can be reached at mconcepcion@sdbj.com or 858-634-4625.