Cooking Skills, Consulting Prowess Serve His Customers
Sunday, March 17, 2019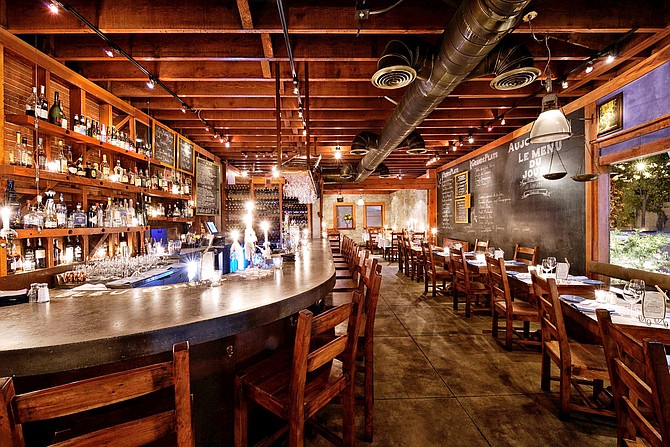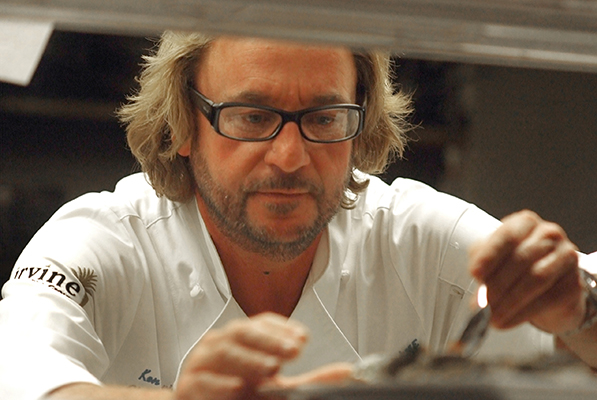 As a child growing up in Montreal, Canada, chef and restaurateur Ken Irvine aspired to be a tuna fisherman.
His dad was the president of Zapata Ocean Resources Inc. and then went on to start his own tuna fishing company, which eventually brought the family to Coronado in the late '70s. After graduating Coronado High School in the early 1980s, Irvine decided to try his hand at the family business, which led him to Panama, Pago Pago in American Somoa and a handful of other places in the western and southwestern Pacific.
Several years later, when the industry seemed to be declining and at the recommendation of a former girlfriend who noticed his knack for cooking, Irvine turned in his fishing pole for an apron and moved to New York to attend the Culinary Institute of America. It was only a short time after he graduated that he worked for a Michelin Star restaurant, Le Relais a Moujins, in France, and was hired as a sous chef and then promoted to executive chef of the Plaza on Hyde Park Hotel in London. As a result of the latter, he earned the recognition of being the youngest executive chef of a major hotel in the city at the age of 26.
Irvine Hospitality
Today, Irvine, 57, wears more than just a chef's hat. He owns Irvine Hospitality Group, which provides consulting services to hospitality ventures including hotels, fine dining, nightlife and the retail industry; he is the chef and owner of Bleu Bohème, a French restaurant located in Kensington; and he is part-owner of Sea180° in Imperial Beach with David Cohn of the Cohn Restaurant Group. He has about 25 employees between Bleu and Irvine. While Irvine wouldn't share revenue figures, marketing tech firm Zoom Information Inc. reports Bleu Bohème makes annual revenue of about $5.6 million. Irvine said he projects both his restaurants will grow at a 3 percent to 5 percent rate this year.
Early Hardships
The path to success wasn't exactly easy for Irvine. For example, when he decided to go into the food industry and study in New York, he needed experience in order to qualify for the program. So, he worked the morning shift at a café in Mission Valley and then the 3 p.m. to 11 p.m. shift at the former China Camp at Fat City. He did that five to six days a week for six months before he got accepted to the culinary school. And when he moved to London, he was faced with issues with his visa which resulted in him bouncing around from city to city, restaurant to restaurant, sometimes sleeping in the busmen room for days at a time, before being forced to return to the states.
First Restaurant
By then, he had wiped out all of the money he'd made and returned to fishing in South America to make more, said Irvine. When he returned, Irvine, then 29, purchased his first restaurant, Chez Loma, located in his hometown of Coronado in 1991. A few years later, he opened up Chameleon Club and Lizard Lounge right across the street with some partners.
His ownership in Chameleon/Lizard was short-lived, as disputes among the owners led him to sell his shares back to the partners less than a year later. He went on to own Loma for about 14 years before selling that property as well. By then, he had switched gears again, and had started to put more of his focus on his consulting business.
Consulting Work
Irvine Hospitality Group officially launched in 1997 and through the one-man team, Irvine helps other businesses in the hospitality industry. One of his clients was the $500 million Terranea Resort in Rancho Palos Verdes. Irvine worked on that project for two years, handling the creation of the food service and design of the lobby and the rooms, among other aspects. Other projects include Hotel Majestic in San Francisco, for which he developed two back-to-back restaurants, and The Sofia Hotel in San Diego.
Irvine also helped David Cohn develop six of his San Diego-based restaurant concepts.
"What I really enjoy and what is my forte is when a client comes to me and says he wants to develop or own a restaurant," said Irvine. "They may or may not have an idea, or maybe they have some kind of idea," and Irvine helps them grow and expand on that. He adds that on a few occasions he turns projects down because, through his experience in the industry, he can sometimes predict when a restaurant may have little chance of survival in the San Diego market.
Bleu Bohème
In 2009, Irvine purchased Bleu Bohème and in 2013, he and Cohn teamed up for Sea. For Bleu, he oversees all front and back-of-house operations and for Sea, he developed the Polynesian-inspired food menu. Bleu has gone on to receive many accolades during its time, including Best French Restaurant by the California Restaurant Association from 2011 to 2013 and then again in 2016 and 2018.
Irvine said he wouldn't change a thing about his path. Today, he would consider opening up maybe one more restaurant, but, "life is not too bad right now," he said. When he isn't working with his handful of clients on the consulting side, Irvine is golfing or surfing or spending time with his twin boys.