Ambrx Takes in $10M Upfront for Drug Discovery Partnership
Thursday, March 14, 2019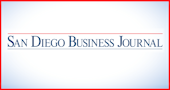 Ambrx's technology has netted $10 million upfront in a collaboration with BeiGene Ltd.
San Diego's Ambrx developed platforms that introduce non-amino acids into certain proteins at any site, which looks to complement BeiGene's focus in cancer drug development. BeiGene is based in China.
"We believe that by incorporating this site-specific conjugation technology, we can further broaden BeiGene's portfolio of next-generation biologics," said John Oyler, CEO and chairman of BeiGene.
"This collaboration with Ambrx is another example of our commitment to investing in innovative early-stage research, both via our internal resources and capabilities and via collaborations."
The $10 million will fund Ambrx discovery and research. An additional $19 million is possible if BeiGene turns to Ambrx's technology for other efforts.
Should the collaboration produce approved drugs, Ambrx is eligible for up to $446 million in payments, as well as tiered royalties on global sales. BeiGene would develop and commercialize drugs stemming from the pact.
Ambrx has also partnered with the likes of Bristol-Myers Squibb, Astellas, BeiGene and Elanco.
In 2015, various Chinese biomedical and healthcare investors bought Ambrx. A year earlier, the company ditched an initial public offering plan, saying market conditions weren't right.