DINING: FOODIE SCENE EXPANDS IN AFFORDABLE, WELCOMING TOWN
What's Cooking In Oceanside?
Wednesday, March 13, 2019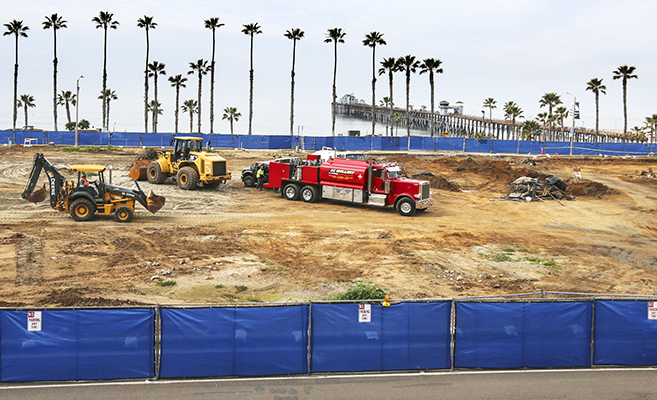 A hospitality renaissance of sorts kicked off in Oceanside with the opening of places like Harney Sushi, 333 Pacific and Flying Pig Pub & Kitchen starting around 2011.
"Those three operations were the catalysts for the shift," said Gumaro Escarcega, program manager at Main Street Oceanside, a nonprofit business group.
The eateries were followed by others like Swami's Café, Petite Madeline Bakery, Local Tap House, Masters Oceanside, Wrench and Rodent Seabasstropub and Bagby Beer Co.
And the renaissance continues today at full speed. Drawn to roots in the area, the beach culture and the relatively inexpensive prices compared with other North County waterfront towns, entrepreneurs are planning a bonanza of eateries including Pacific Coast Spirits, Island BBQ and Steel Mill Coffee, among a long list of others.
Hospitality Renaissance
A walk up and down North Coast Highway in Oceanside these days will easily yield half a dozen "under construction" and "now open" signs in as short as a 10-block radius.
That's because, for the last eight years or so, the North County city has been going through a food and beverage renaissance of sorts, welcoming a host of new restaurants and tasting rooms, boutique hotels and activities — for example, "Walk This Way," a walking food tour — to the waterfront town.
Between 2011 and 2019, Oceanside has gained 51 restaurants and four new food and beverage offerings will open in the next few months, said Escarcega. He adds that from 2011 to 2018, the district has seen a 98 percent increase in sales tax revenue in downtown Oceanside, not including the fourth quarter.
"You can see how the restaurants are driving the market," he said.
Tracey Bohlen, economic development manager for the city of Oceanside, believes the Oceanside food renaissance began with restaurateurs with ties to the city wanting to return to their hometown and open up their businesses there.
"A lot of it is local people that grew up here or went to school here and are coming back and investing," she said, namedropping Gabe Hogan, who grew up in Oceanside and opened Local Tap House in 2014 (and now Exhale, which offers wood-fire cuisine and opened in January), as well as Charlie Anderson, owner of Privateer Coal Fire Pizza and the Privateer Marketplace & Wine Bar. "These are people that grew up here and are coming back and opening businesses. I believe that started the renaissance, and now people are starting to look at Oceanside with a different eye."
Pedestrian Friendly
Bohlen said that to better accommodate the growing hospitality sector in the area, Mission Avenue was recently revamped to make it more of a walkable space; it is a one-way, west-bound road now with wider sidewalks. She added that a coffee shop opened on the street weeks ago and Burgerim Gourmet Burgers and Benito's Pizza Cafe opened up recently on the same strip.
Kathryn Lalicata, director of marketing at Local Tap House and Exhale, says Oceanside is also attractive because it is relatively inexpensive compared with neighboring waterfront towns like Encinitas and Carlsbad.
She added that Oceanside is one of few beach towns in San Diego County with edge and personality. "It's different than others because it isn't cookie cutter. It still has soul and a family feel to it. So, we are seeing a lot of people that haven't been here or spent a lot of time here before discovering us and finding us alluring."
Nicholas Hammond, proprietor and head distiller of Pacific Coast Spirits, slated to open in a few months, said his search for a venue took him all over North County, including Encinitas and Carlsbad, before he landed in Oceanside.
"We tried Carlsbad but ran into some issues there — the city itself was behind our project, but a small sector of the community was against what we were doing," he said, adding he wanted a big enough industrial building to house a restaurant, a bar, a tasting room and a warehouse. "If we did it in Encinitas, it would be small there and wouldn't have allowed us the space to build a warehouse like we wanted."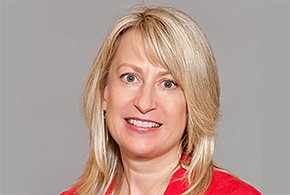 Business Friendly
Unlike the other cities, Hammond says Oceanside was completely behind the development from the start. Now, Pacific is set to open in a 12,000 square-foot building on North Coast Highway that will include a restaurant in a third of it while two-thirds will be a barrel warehouse and production facility.
Oceanside locals and visitors alike are enjoying the new offerings. According to the Oceanside Travel Impacts 2010-2017 report, the visitor spending in the food service sector in Oceanside in 2017 was $103.8 million, up from $67.4 million in 2010. Leslee Gaul, president and CEO of Visit Oceanside Conference & Visitors Bureau, says in 2017, visitor spending on dining was 30 percent, more than any other category, including lodging, which came in at 27 percent.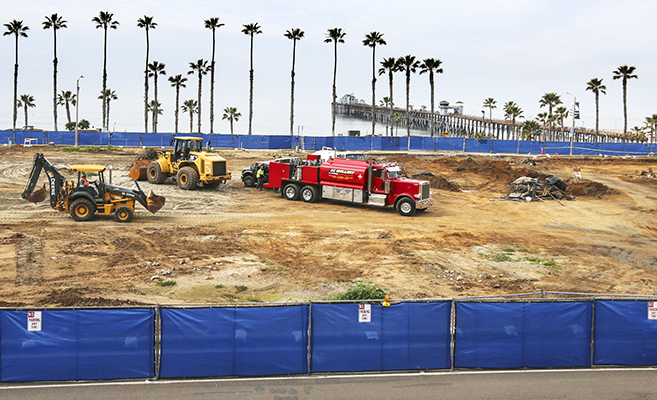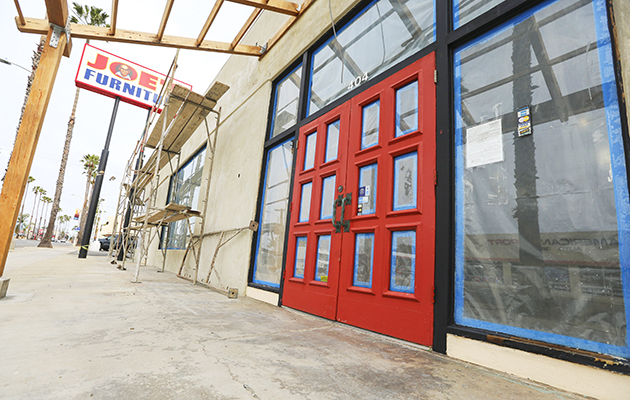 "It wasn't always that way," she said. "Lodging was always the largest category for Oceanside, but dining is such an experience in the area now."
She added that a lot of the newer food and beverage options in Oceanside are setting up shop in not only unused land and buildings, but in former staples around town. For example, Masters Kitchen and Cocktail used to be Masters Automotive and Machine Shop and an as-yet-named Italian restaurant scheduled to open later this year will be housed in the former Oceanside Blade-Tribune newspaper building downtown. It will also be named after its predecessor, she said.
Scott Ashton, CEO of the Oceanside Chamber of Commerce, said this turn in the face of Oceanside has been intentional, spearheaded by those involved in the tourism and hospitality sector in the community, and has been in the works for quite some time.
Local Options
The Oceanside Beach Resort, for example, a two-part construction that will include a full-service hotel and a boutique hotel, has been in the works for about 12 years now, he said, "and there are previous projects that never came to fruition. It is a huge benefit and opportunity for our visitors to spend in our community, but also for our residents." Now they have a downtown with an array of food, beverage and hotel options instead having to lodge here and leave the area to grab a bite or a drink, he said.
He added that while most residents are excited to see their neighborhood get a facelift and, subsequently, pump some money into the town, Oceanside has faced some resistance from those who are afraid the essence of Oceanside will be lost with the growth.
"There are some growing pains, but there is more excitement than resentment," he said. "I think you do have people in the community that don't want to see change, but change is inevitable. I've been here almost 23 years and there has been years and years of anticipation for growth."
Bohlen, with the City of Oceanside, added those restaurants that kicked off this movement, the pioneers of the renaissance, are also excited and welcome the friendly competition.
"It brings more people to town and makes them more aware to come here for dinner," she said. "You can come here and enjoy the pier and the daytime or sunset market and stay and have dinner. And, these guys that have been around for a while will also capture some of that business."