North County Printers Merge
Tuesday, March 12, 2019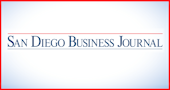 Zuza and Golden State Graphics, two commercial printers based in North County, announced in March that the two companies merged effective Jan. 1. The two owners of Zuza and the single owner of Golden State each have one-third interests in the new company, called Zuza LLC.
Financial terms of the deal were not disclosed. Zuza had revenue of approximately $9 million, while Golden State had revenue of approximately $5 million.
The business consolidated operations in Zuza's Carlsbad space. Golden State Graphics' lease in San Marcos had come to an end.
Zuza also announced that it bought a new Komori press, a $2.5 million investment. The sheet-fed model GLX640 press can turn out finished products as large as 28 by 41 inches. There is only one other press of the same model on the West Coast, said Zuza President Tom Hale.
Zuza was previously known as CPS Printing.
The company's services also include multichannel marketing campaign services; that is, services that utilize email, direct mail and custom landing pages as well as web-based marketing asset management.
"We are very excited to join forces," said Hale and Golden State owner Alan Katz in a prepared statement. "This is an excellent opportunity to combine two great groups of employees and clients under one brand. It is also an excellent opportunity for both of our companies to bring our strengths together, to learn from each other, expand our offering and deliver our clients even more value than we have been able to offer independently. This merger will open new doors for us as a company, insure a strong and growing future for our employees, and deliver an enhanced offering to our clients."