Sanford Burnham Prebys Appoints 2 Trustees
Monday, March 11, 2019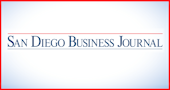 Sanford Burnham Prebys Medical Discovery Institute recently appointed two board trustees: Matt Browne and David Szekeres.
Browne is a partner in Cooley LLP's San Diego office, and Szekeres is a senior vice president of business development and general counsel for San Diego-based Heron Therapeutics.
Szekeres is also on the board of Annai Systems and acts as board chair of Animantis, while Browne is also on the board of San Diego Venture Group and Verb Surgical.
San Diego's Sanford Burnham Prebys is a biomedical research nonprofit. It has 16 board members.