Barnhart-Reese Get the Jobs Done
Sunday, March 10, 2019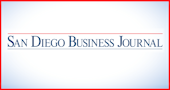 Barnhart-Reese Construction based in Rancho Bernardo has recently finished several projects, including $6.6 million in renovation work on two buildings at Naval Base San Diego.
The company also built a 10,027 square-foot social hall at St. Demiana Church of San Diego's Del Sur campus. The $3.7 million project includes a 944 square-foot extension to the church exterior.
Barnhart-Reese also built a 5,400 square-foot warehouse at the UC San Diego — a $2.8 million project — and did $3.4 million of work on a new Student Support and Events Center for Mount Miguel High School.