AbacusNext CEO Pursues Professional Services Sectors
Sunday, March 10, 2019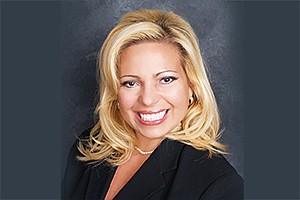 Though AbacusNext has been around since 1983, the San Diego-based software company has seen startup-like growth in the last five years. When CEO Alessandra Lezama joined the family-owned company in 2013, AbacusNext was a $5 million company with 29 employees building case management software for legal clients.
Now, AbacusNext has just under 500 employees globally, reporting $77.89 million in revenue in 2017. Private equity firm Providence Equity Partners acquired AbacusNext in 2015. The business recently moved into a new, 65,000-square-foot headquarters in UTC.
Lezama, who previously headed up local companies including Sunfood and American Internet Services, credits the company's growth to meeting a big need for professional services companies. Since she took leadership of AbacusNext, the company built out its private cloud services, and expanded its customers to the banking, financial services and insurance industries. It currently has nine data centers and more than 1.2 million users.
Read more about how Lezama led the company to its current growth trajectory:
Q. Why did you join AbacusNext?
A. I had met the founder (Judd Kessler) at a presentation. He asked me to look at this company that had been around for 30 years. What captivated me about the opportunity is that they had 250,000 captive clients. Not many tech companies can do that. I thought, 'there must be something special about it.'
(AbacusNext) was one of two leaders in the market. They had not been able to make the leap to the cloud. They hired me to come and reengineer the product.
I've spent 24 years in tech. My background has ranged from satellite communications to datacenter operations. It was the perfect marriage.
Q. How was it taking on leadership of a family-owned company?

A. The founder was very gracious in giving me the opportunity. He trusted my vision and helped me to position myself. (Kessler) remained chairman of the board and gave me full reign.
Q. How did you grow the company?
A. I brought on some folks that I had worked with in the past. I brought a team of data tech experts and we built out Abacus Private Cloud.
When we launched, it was incredibly successful. We couldn't build it fast enough for all of the attorneys. We created an ecosystem that enables attorneys to integrate all of the piecemealed software applications they use under a (remote desktop).
Given the success we had in 2014 launching this product, we were targeted by many institutional investors. We received a major investment from Providence Strategic Growth. In the last two years, we have gone out and acquired six new companies.

Prev Next