San Diego EMS Software Provider Sold to Massachusetts Company
Thursday, March 7, 2019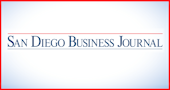 Golden Hour Data Systems, a San Diego-based software company, sold to a Massachusetts-based company on March 4.
Zoll Medical, which manufactures medical devices and software solutions for emergency medical services, bought Golden Hour for an undisclosed amount. Golden Hour specializes in software for medical air transport, helping companies track and collect claims. CEO Kevin Hutton said the deal would have "an immediate positive impact on our combined customer bases."
Zoll Data Systems President Alex Moghadam said the combination would help serve both high-volume and low-volume EMS agencies with records management.
"ZOLL and Golden Hour have been delivering complementary solutions to the EMS market for the better part of two decades," he said. "With this acquisition, we'll leverage the best of both development organizations to bring the next generation of cloud-based EMS solutions to our customers."
San Diego-based investment bank Ra Capital Advisors assisted Golden Hour with the transaction.