Oncternal Therapeutics Merges with GTx
Thursday, March 7, 2019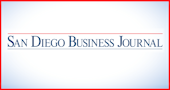 San Diego-based Oncternal Therapeutics entered into a merger agreement with Tennessee's GTx, it was announced March 7.
At deal close Oncternal stockholders would hold about 75 percent of the combined company's outstanding shares, according to a news release.
Oncternal Therapeutics plans to change its ticker symbol on the Nasdaq Capital Market to ONCT once the merger wraps up.
James Breitmeyer, Oncternal's co-founder, retained his role as CEO. David Hale, a biotech veteran, will continue as board chairman.
Its lead drug candidate, cirmtuzumab, is in Phase 1/2 testing in combination with the drug ibrutinib for chronic lymphocytic leukemia and mantle cell lymphoma.
Cirmtuzumab, in combination with the drug paclitaxel, is also in a phase 1 trial for women with metastatic breast cancer at UC San Diego. Oncternal disclosed three additional drug programs.
The merger, expected to close by the end of the second quarter, would give Oncternal a $26 million runway. The funds will advance clinical testing, including a planned phase 2 study of cirmtuzumab and ibrutinib.