Seven Finalists Named for San Diego Angel Conference
Tuesday, March 5, 2019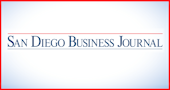 The San Diego Angel Conference, which seeks to pair local startups with new investors, named its seven finalists. The event, the first of its kind in San Diego, is meant to teach first-time angel investors how to conduct due diligence for early-stage companies. Participating startups also have a chance to win a cash prize.
Mysty Rusk, director of the Brink Small Business Development Center at the University of San Diego, is organizing the conference. Local angel investor and director of Hera Hub Silvia Mah is serving as fund manager.
Participating investors fielded applications from 91 entrepreneurs, across everything from biotech to software, before narrowing down the pool to seven finalists. Those companies will deliver their 10-minute pitches before an audience on March 15, with the winner taking home a cash prize pooled together by the angel investors.
The finalists include:
Navega Therapeutics, a company developing gene therapy to treat chronic pain. The company is currently a member of life science incubator JLABS. CEO: Ana Moreno
Lendit Inc., which develops software for rental business, such as sports, auto and boating. CEO: Andrew Adrian
Hydrostasis Inc., a company that is developing a hydration monitor for athletes. The company recently graduated from Ad Astra, a local accelerator for female founders. CEO: Debbie Chen
GroGuru, a company developing monitors that can be buried near crops to track soil moisture and salinity. The company is currently part of Evonexus' technology incubator. CEO: Patrick Henry
Vivid Genomics, a company founded by a former Illumina executive that uses machine learning and genomics to screen patients for Alzheimer's Disease clinical trials. The company is currently located at JLABS and recently graduated from Ad Astra. CEO: Julie Collens
Aquacycl, which uses a combination of bacteria and electrodes to treat wastewater more quickly and recover energy as electricity. Aquacycl is a portfolio company of Tech Coast Angels. CEO: Orianna Bretschger
Nanome Inc., a VR platform that is used to visualizes small molecules and proteins for research. CEO: Steven McCloskey