Matter Real Estate to Try Its Luck And Skill With Las Vegas Development
Tuesday, March 5, 2019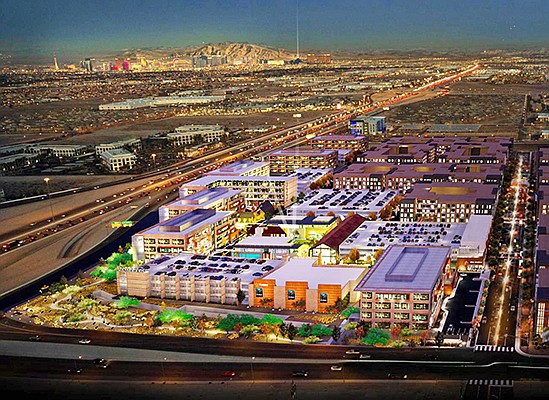 Las Vegas has been picked for a $400 million development project by the San Diego-based Matter Real Estate Group, not that the company is ignoring its hometown.
"We're evaluating several opportunities," said Tom van Betten, vice president for development for the group.
He declined to name those opportunities.
"Matter's longer plans are to be a regional developer," van Betten said. "Developments obviously are more challenging in Southern California not only for regulatory reasons but just the scarcity of development sites."
The Las Vegas project – which Matter Real Estate is calling UnCommons - will have 500,000 square feet of office space, 875 apartments, 100,000 square feet of retail space, a food hall, restaurants and bars and health and fitness studios.
"The idea of UnCommons is you start your day there and you end your day there," van Betten said. "Without getting in your car, imagine the day. You start with a workout or fitness routine at one of our partners, you get a craft coffee, go into the office for a couple of hours, come back downstairs, have lunch in the food hall or one of several food and beverage opportunities, and go back to the office. Then we're going to have multiple venues such as a beer hall or a theater before you walk home to your luxury apartment. That's kind of what people want today."
UnCommons is designed by the Gensler architectural firm, which has offices in San Diego.
"It's big, but in Las Vegas, it's really needed," van Betten said. "After the recession, they suffered a real gap in innovation in the development of office-centric projects."
Van Betten likened UnCommons to the One Paseo mixed-use project Kilroy Realty is building in San Diego's Carmel Valley that combines office space, apartments, retail shops, fitness spaces and restaurants.
Las Vegas was a natural pick for investment by Matter Real Estate partly because the company's top executives have strong roots in the area.
Van Betten said he was born and raised in Las Vegas and worked as a broker there in the 1990s; Kevin Burke, a partner in Matter Real Estate, owns a construction company in Las Vegas; and Jim Stuart, a partner, has developed a number of projects in Las Vegas.
"We really have a lot of relationships in Las Vegas that go back 20, 25 years," van Betten said. "It's not like we're new to Las Vegas."
Matter Real Estate was formed in 2018 and Las Vegas "just happens to be where we're starting."
The UnCommons is the company's biggest project to date.
In addition to UnCommons, the company will be breaking ground on three more projects in the Las Vegas area later this year, van Betten said.
Matter Real Estate isn't the only San Diego company that's gambling on Las Vegas property as a strong investment.
Tower 16 Capital Partners in January bought a 314-unit Las Vegas apartment complex for $29.5 million and in October bought a 540-unit apartment complex in the city for nearly $49.8 million.