DINING: $1.5 MILLION IN AVERAGE SALES PER STORE LAGS TOP COMPETITORS
All Agree on One Thing, Jack Needs to Make More Money
Monday, March 4, 2019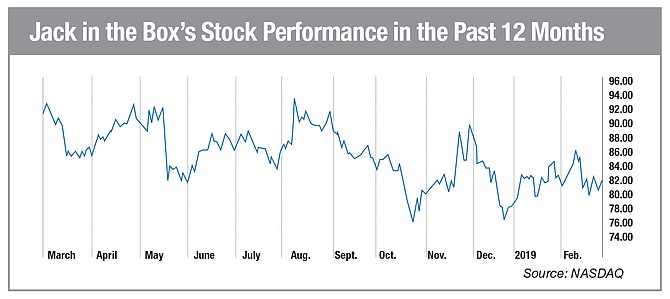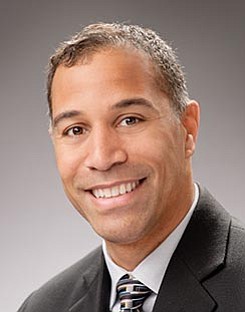 JACK IN THE BOX
CEO: Lenny Comma
Revenue: $870 million in 2018; $1.56 billion in 2017
Net Income: $121 million in 2018, including earnings from discontinued operations; $135 million in 2017
No. of local employees: 1,175
Headquarters: Kearny Mesa
Year founded: 1951
Stock symbol and exchange: JACK on Nasdaq
Company description: Quick-service restaurant franchisor
On the hunt for a buyer in 2019, Jack in the Box Inc. is working to resolve the challenges and contradictions of the year gone past.
2018 saw two markedly different stakeholder groups — activist investors and franchisees — continue their calls for the company to change the business to their liking. Both groups have been very public with their demands.
As it talked with its stakeholders, Jack in the Box (Nasdaq: JACK) narrowed its focus to please activist shareholders such as Jana Partners. The corporation had $1.56 billion in 2017 revenue and essentially broke itself in half in early 2018, selling its Qdoba sit-down Mexican restaurant chain. The point was to concentrate exclusively on its drive-thru quick-service Jack in the Box restaurants, which are mostly owned by franchisees.
In spite of that move, the markets' enthusiasm waned as the year went on. Jack in the Box shares lost 21 percent of their value in 2018, going from $98.11 on the last trading day of 2017 to $77.63 on Dec. 31, 2018.
The stock perked up to the $81 range more recently when Jack in the Box reported financial results that exceeded analyst expectations. Operating earnings were $1.35 per share, above the analysts' consensus of $1.28. Same store sales were also ahead of analyst expectations.
Positioning for Sale
Today the corporation is positioning itself for a possible sale, and there is interest among private equity groups to get into the quick-service food business.
"There is a lot of M&A cash out there," said Aaron Allen, a restaurant consultant with offices in Chicago and Florida. He added that companies are leaving the public markets to avoid the level of scrutiny that goes with being publicly traded, as well as phenomena such as short-selling.
Industry publications claim to have insight on sale negotiations, Restaurant Business reported on Feb. 14 that a suitor balked at Jack in the Box's asking price and its prospects for growth. The publication cited a report in DebtWire as its source. DebtWire suggested prospective buyers were uncomfortable with the chain's strained relationship with franchisees.
As of its Feb. 21 earnings statement, Jack in the Box said it was still considering a sale — or absent that, taking on more debt. It said it would not make further comment on the matter.
Does Value Have Value?
Part of the trouble at Jack in the Box is a dispute between the company and the National Jack in the Box Franchise Assn. It reached a point where the franchisees called for the removal of Chairman and CEO Lenny Comma in October, and sued the corporation in December. The lawsuit alleges breach of contract and implied covenant of good faith and fair dealing.
The association represents 95 franchise owners who run 83 percent of all restaurants (or approximately 2,000 outlets).
In Comma's view, franchisees don't all think alike. In fact, he said there are a couple of camps which have different opinions on the direction he is taking the company.
"There's one camp that says, 'Hey look, we want things to be the way they were. We want to promote premium items and we want to innovate against premium items. That's been a core part of the strategy. We're concerned that we're potentially not going to do enough of that,'" Comma said during a recent conference call with analysts. (The CEO was not available to comment for this story.)
The other camp, Comma told analysts, agrees with Jack in the Box's attempt to balance value items with premium items. Jack in the Box has recently started bundling items and offering them for a value price, Comma said.
The Competition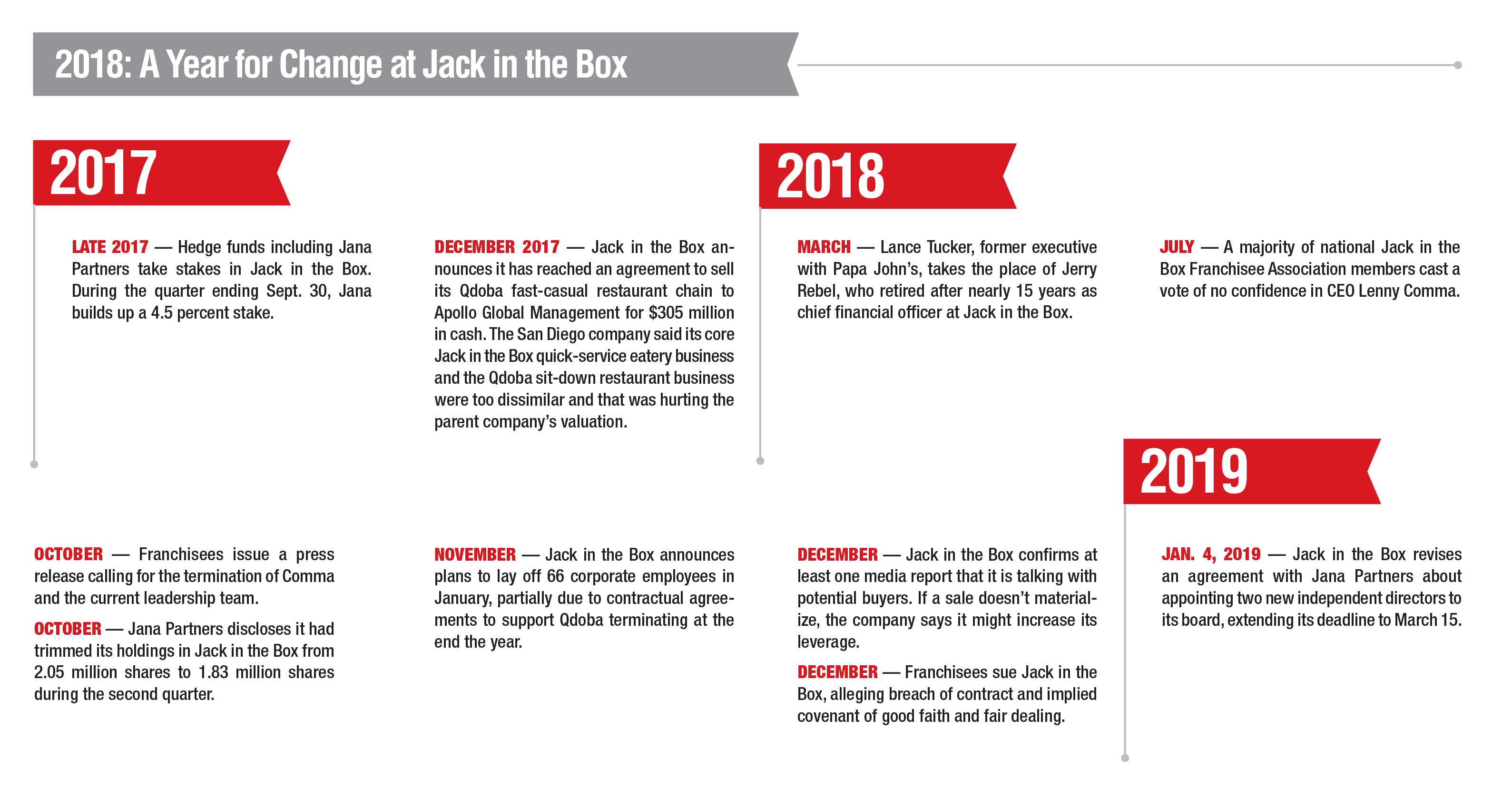 Competitors, meanwhile, are offering deep discounts.
Analyst Chris O'Cull of Stifel argued in a recent note that Jack in the Box's attitude toward value may be hurting its sales: "… [W]e believe the company's reluctance to discount in the promotional environment contributed to the modest deterioration in the system's SRS [single restaurant sales] performance relative to QSR [quick-service restaurant] burger peers," he wrote in a Feb. 20 note.
Indeed, the company may be faced with a dilemma: It has to worry about whether franchisees can collect adequate revenue, while at the same time offering discounts to get enough customers to come through the doors. On top of that, there is the expense of doing business in California, a key market for Jack in the Box.
"We believe the promotional competitive set may continue to make it difficult for JACK to meaningfully improve transaction counts enough to generate upside without marring the profitability of franchisees, many of which are domiciled in high-wage jurisdictions, such as California," O'Cull wrote.
Nick Setyan, an analyst with Wedbush, wrote that he wants to know whether Jack in the Box can improve same store sales by offering "a more consistent cadence of premium and value innovation supported by a return to JACK's marketing DNA." A small part of the analyst call centered on how the Jack character was promoting the business.
Allen, the restaurant analyst who runs Aaron Allen & Associates, said Jack in the Box is having a hard time because people are eating fewer burgers.
"We have not had growth in per-capita burger consumption," he said, noting there are 50,000 hamburger joints in the United States, many of them chasing "better burger" concepts that push up average store sales.
Super Chicken
"Chicken guys" are taking up market share, he observed, with privately held Chick-fil-A on an expansion push. Chick-fil-A has $4.5 million in average sales per store — three times the average unit volume at Jack in the Box of $1.5 million, he said. McDonald's (NYSE: MCD) has an average of $2.6 million in sales per store, down from $3 million.
In his recent conference call, Comma told analysts that Jack in the Box is "not a huge chicken player, but we do sell a lot of chicken sandwiches." And that category might have the potential to grow.
"I think if we were to reevaluate the chicken category, and get it to sort of a right size and price — and right offering — we could potentially generate a nice increase in that category," the CEO said. "So I've been working with my product marketing team to really start to investigate what we can do to overhaul the chicken category."
The company will likely learn some more about the subject by putting limited-time offers of chicken products on the menu later this year, Comma said.
Brad Graves can be reached at bradg@sdbj.com