BIOTECH: Expanding Genetic Alphabet Could Help in Cancer Fight
Sunday, March 3, 2019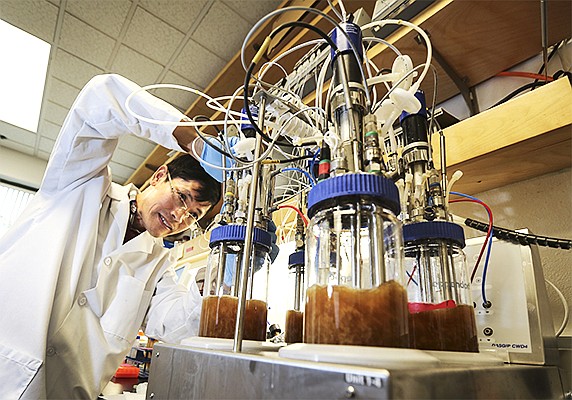 SYNTHORX INC.
CEO: Laura Shawver
Headquarters: La Jolla
Funding: Recently raised $151 million through an initial public offering, preceded by investor funding rounds.
Stock symbol and exchange: THOR on Nasdaq
Company description: Synthorx developed a potential cancer drug based on technology that expands the genetic alphabet, among other preclinical programs.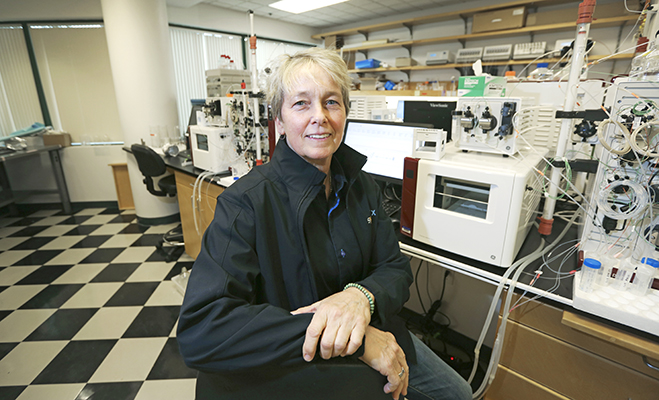 A drug approved in the 1990s boosts cancer-killing cells. But it can also wreak havoc on the immune system.
That's where Synthorx comes in. The La Jolla-based biotech — fresh off a $151 million initial public offering — wants to tame what's known as Interleukin-2, or IL-2, a space studied for decades.

The IL-2 drug aldesleukin, which got the green light in 1992, was initially viewed as a potential breakthrough cancer therapy. But it works in only a subset of patients — and triggers life-threatening side effects in many cases.
Formed in 2014, Synthorx's approach to IL-2 is based on discoveries from Floyd Romesberg's lab at Scripps Research. The science behind Synthorx motivated CEO Laura Shawver to come on board in 2017.
Her explanation of the company's technology veered between high-level and in-the-weeds during a half-hour interview at COI Pharmaceuticals, an incubator housing Synthorx and others, headed by Avalon Ventures.
But throughout, she was impassioned, motivated she said as a biotech veteran attracted to good science.

"When I learned about how the Synthorx technology could reprogram IL-2 to keep the good and tune out the bad, I said, "Oh wow, this is a fantastic opportunity," Shawver said.
Expands Genetic Alphabet
For non-scientists out there, Synthorx's platform expands the genetic alphabet. It does this by adding an artificial DNA base pair — X-Y — to the DNA bases that occur in nature: A-C and G-T. This process is used to create a special strain of bacteria that produces Synthorx's lead drug candidate and version of IL-2, called THOR-707, which has shown promise in preclinical studies.
It's designed to increase cancer-fighting cells, while cutting down on IL-2 toxicity.
"The end result is simple and elegant. But the process to get there is otherworldly," said Shawver from a conference room in Synthorx's old second-floor office in COI. The company recently moved into larger digs on the ground floor as it enters a new phase.
Clinical Trials?
In the second quarter of 2019, Synthorx plans to ask for the OK to begin clinical trials of Thor-707. Synthorx aims to test THOR-707 in various tumors, both alone and in combination with an immune checkpoint inhibitor, which helps the body recognize and attack cancer cells.
Prev Next