LARGE COMPANIES FIND FLEXIBLE OFFICE SPACE GIVES THEM A MORE NIMBLE PRESENCE TO TEST MARKETS
Special Report: Coworking Thinks Big
Sunday, March 3, 2019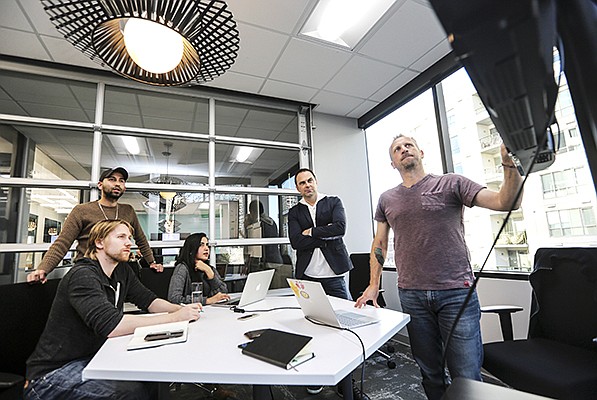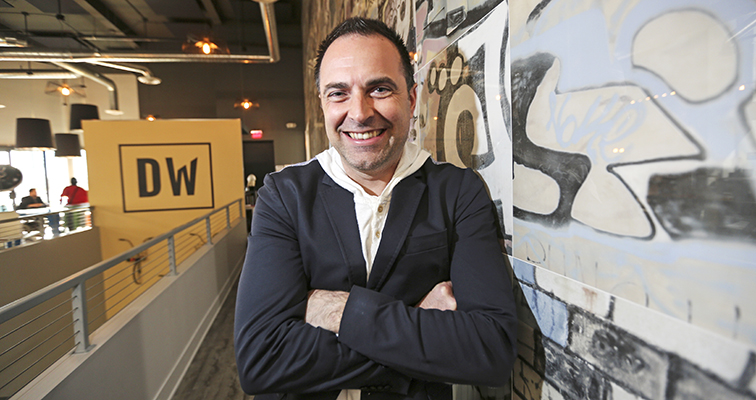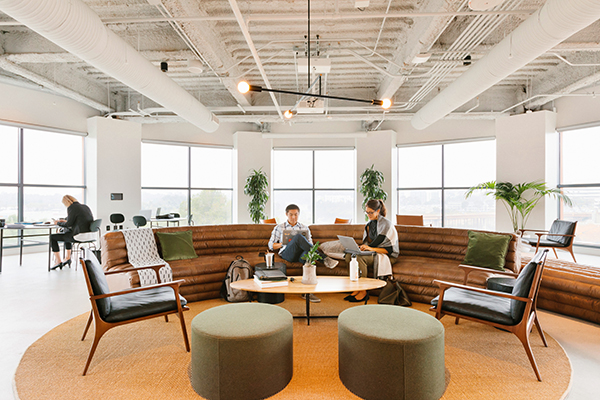 Bobby Brannigan's commute is shorter than most. Every morning, he takes an electric scooter to his company's offices in Downtown Works, a colorful, multistory coworking space in the heart of San Diego.
The walkable neighborhood was one of the many perks Brannigan was looking for when he moved his 20-person independent grocery delivery platform, Mercato, from New York. Brannigan said he was also looking for an office that was bustling with activity and with room to grow — he plans to hire 30 employees in the next three months.
"We started a new company in New York City, because we had some strong investors and advisors in New York," Brannigan said. "Once we got big enough, we moved to San Diego."
America's Finest City also holds a special place in Brannigan's heart. He grew his first company here, a textbook-selling platform that grew from $5 million to $20 million before selling to Boston-based SimpleTuition in 2012. Along with his company, Brannigan moved to Boston.
"San Diego, it's a magnet. … It's a great place to start a company," Brannigan said. "There's a lot of talent. That's what brought us here in the first place."
Downtown Works served as the catalyst for Mercato to make the jump. Brannigan picked out the coworking space a year ago, when he was scouting out offices for the big move. Mercato, which has raised $4 million to date, is currently leasing out three of its private office spaces in a corner of Downtown Works.
"With coworking, a lot of the things you have to think about when you're starting your company, you don't have to think about. Why should we think about the internet being up, or the janitor cleaning your office?" Brannigan said. "You don't have to deal with that stuff, and it's easy to scale up. As we start growing the business, we can take more rooms."
'Not Even Close' to Saturation
Big companies are taking a similar approach, as they look to coworking as a way to test out new markets, or for flexibility in recruiting. The amount of commercial office space dedicated to shared office space in most cities is expected to grow to 8 percent to 10 percent in the next few years, according to Jeff Langdon, managing director of commercial real estate advisory firm Adaptive Office Resources. For context, in New York and San Francisco, the most saturated U.S. markets, coworking accounts for roughly 3 percent of office space.
Though the San Diego market has begun to feel more crowded, Langdon said its "not even close" to saturation. With more than 90 shared office spaces, coworking makes up just 1.51 percent of office space in San Diego, according to Cushman & Wakefield.
"I think we're at the beginning of larger company adoption of this type of product," Langdon said.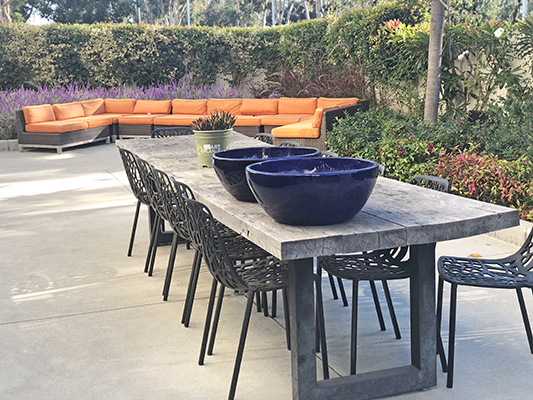 Biotech on Board
San Diego's clout in biotech has also helped local coworking companies pull in big clients from outside markets. BioLabs, a niche coworking concept, recently opened a second local office and is attracting interest from biotech companies overseas.
BioLabs first opened in San Diego two years ago, as a way of offering office space and preclinical lab space to early-stage life sciences startups with new technologies. While those companies still make up the majority of its users, Chief Operating Officer Susie Harborth said larger companies in San Francisco and across the Pacific also rent office space.
"We're getting interest from international life science companies that we want to have a presence here," Harborth said. "We have had established diagnostic companies in other countries, Korea or Japan, looking to enter the U.S. market. We're a nice launch pad for them."
Specifically, BioLabs serves as a starting point for companies that may have gotten regulatory approval for their product overseas, and now want to pursue commercialization in the U.S. Those companies open sales or business development offices in BioLabs, bringing more mature products and experienced talent to the mix.
"That's nice because you're able to have someone who's totally new and someone who's experienced working together," Harborth said. "You have a senior executive working next to a first time CEO. It's proven very powerful."

Big Corporations Move In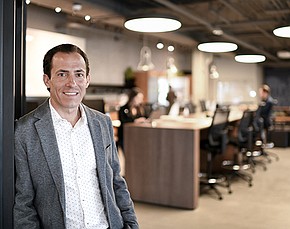 Currently, WeWork says "enterprise members" (or big corporations) account for 30 percent of its global membership. Locally, WeWork's two San Diego locations host auditor KPMG, publicly-traded software company Blackbaud and payroll services company TriNet, for example.
Qualcomm Inc. also counts itself among its users, though primarily for WeWork's overseas locations. The San Diego-based semiconductor company said it had used space from WeWork or Regus for more than 15 years, as an amenity for employees in Berlin, Germany, Riyadh, Saudi Arabia, Hanoi, Vietnam, and other major worldwide metros. The flexible office space is primarily used for employees that are on the road, or work from home, but might need access to a conference room a few times per year.
Carlsbad-based CommonGrounds is also betting big on larger companies' interest in coworking. The company rents out an entire building in Denver to office messaging company Slack, and has private offices at its original Carlsbad location rented out to electronic cigarette company Juul.
Langdon said corporations of 100 or 200 people might not want to share infrastructure with other companies, but the idea of having someone manage your office space is still appealing.
"Fundamentally, companies like the idea of a plug-and-play office environment run by another company," He said. "The biggest disconnect that is driving growth in coworking is that companies have a hard time planning for five years or longer. Most companies want to plan for one or two years."
CommonGrounds plans to grow to 50 locations by 2020 — enough to satisfy corporate clients.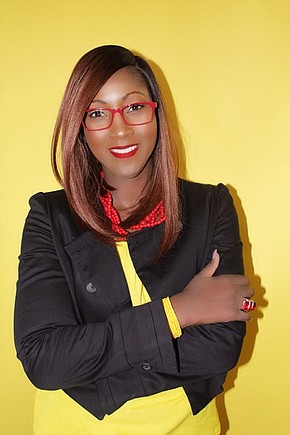 Building Community
Alisha Wilkins, who is opening a new Hera Hub coworking space in Temecula, said she sees an increasing number of companies with employees that work remotely driving the adoption of coworking. She cited a study by Nemertes Research Group that showed an 800 percent increase in the number of remote-working employees over five years.
"There's a change in this idea that in order for people to be working, you need to physically see them in the office," Wilkins said. "If you're working on a project and your expert is in India, decades ago you would have had to move that person to your home base in San Diego. Now, you don't have to do that."
While getting her Ph.D. in organizational psychology, Wilkins studied how workers and managers keep the lines of communication open when they're not in the same office. She found most employees want to be connected in with their peers, even when they're remote.
"The most interesting part of my research was the fact that at our very core, we still crave human interaction. If you work remotely, you still desire to communicate with other human beings," she said. "That's why I like coworking space, even though the work environment in changing."
Coworking spaces that offer programming, workshops, shared coffee lounges and other amenities can build a sense of community between companies. In turn, those benefits can also be used by companies as a recruiting tool.
For Brannigan of Mercato, the connections he made at Downtown Works helped him find his vice president of marketing, Brian Waldman. In turn, he was also able to introduce a San Diego startup to one of his investors, helping the company raise additional funding.
"We're all introducing each other to investors and things like that," Brannigan said. "The community aspect is really good. I think it's essential."
In the long run, he hopes the shared connections and introductions will help him continue to fuel the growth of his e-commerce business.
"We're going to scale up the business," he said. "San Diego's going to be a great spot to make this a massive company."
See More: Coworking Competition Likely to Lead to More Consolidation