New Name May Bring Course Change at Harrow Health
Sunday, March 3, 2019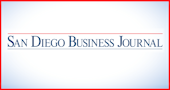 San Diego's Imprimis Pharmaceuticals — known for compounded drugs at the center of a legal challenge — has changed its name. That follows the company folding in several drug development subsidiaries.
In January, Imprimis became Harrow Health.

"Our new name reflects our business model of creating, investing in, operating and growing a diversified portfolio of health care businesses that meet the needs of health care providers and patients across America," CEO Mark Baum said in a statement.
The company received wide attention in 2017 over its compounded drugs, which involves altering the formulation of popular drugs for a specific population, often in direct competition with the original drugmaker, and often at a less expensive price.
Behemoth Allergan hit Imprimis with a lawsuit arguing the San Diego company misrepresented the safety, efficacy and regulatory approval of its compounding business, including an alternative to Allergan's eye drug restasis.
The case is still working its way through the courts.
Harrow said ImprimisRx, the compounding practice, will operate under its existing name. As will other subsidiaries: Eton Pharmaceuticals, Surface Pharmaceuticals, Melt Pharmaceuticals, Mayfield Pharmaceuticals and Radley Pharmaceuticals.
Harrow owns the rights to certain drug development candidates from the pharmaceutical subsidiaries.
For example, Melt's lead drug candidate, melt-100, aims to sedate cataract surgery patients — without an IV or opioids. It's expected an application asking for the OK to begin clinical trials will be filed next year.
Melt last month raised $11 million in a Series A through a private placement of preferred stock.