Dexcom Restructuring to Result in 350 Layoffs
Sunday, March 3, 2019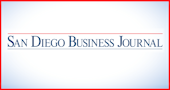 DEXCOM
CEO: Kevin Sayer
GAAP Net loss: $127.1 million in 2018; $50.2 million in 2017
Headquarters: San Diego
Founded: 1999
Stock symbol and exchange: DXCM on Nasdaq
Company description: Dexcom's flagship product is its G6 diabetes monitoring system, which doesn't require finger prick blood draws for calibration.
Dexcom will lay off 350 workers largely in San Diego and Arizona as part of a restructuring, a move disclosed along with fourth quarter earnings that showed strong topline growth.
The jobs are mainly in sales, tech support and administrative functions, many of which will be outsourced or moved to the Philippines, after a Dexcom analysis of where to cluster certain roles. San Diego-based Dexcom specializes in glucose monitoring technology.
Despite the cuts, Dexcom plans to grow its engineering and development ranks in San Diego, as the company invests in spurring new technology. CEO Kevin Sayer said by the end of the year Dexcom will have more employees in California and Arizona than before the restructuring.
"We will remain a San Diego-based company," he said.
The disclosure accompanied fourth quarter results in which Dexcom reported that revenue shot up 53 percent year-over-year to $338 million.
"Yes, we did have a good quarter, but you know, it's important that you plan for the next year and the next several years. And there's never a good time to do something like this," Sayer said.
Given the company's rapid growth, he said, Dexcom took a hard look at which areas best suit varying operations. For instance, the company will phase out call center operations in Mesa, Arizona, but expand manufacturing there.

"The last thing you want to do is try to reorganize when your company is scrambling," Sayer said. "What we believe we can do with our reorganization is give ourselves the ability to continue to grow at this rapid pace and serve our patients."
The 350 positions represent about 13 percent of Dexcom's workforce. Dexcom could not say how many jobs it has specifically in San Diego.
In 2018, Dexcom's revenue skyrocketed 44 percent over the prior year to $1.032 billion, on the strength of G6, the company's smartphone-linked system that keeps tabs on glucose levels. The company cited growth in commercial and Medicare channels, as well as international markets.
In the fourth quarter, Dexcom posted $53.1 million in adjusted net income.
Under Generally Accepted Accounting Principles, the company's net loss was $179.7 million for the quarter. That's counting a $217.7 million non-cash charge stemming from an amended agreement in December with Verily, a subsidiary of Google parent company Alphabet that partnered with Dexcom to develop diabetes technology.
Under the revised deal, Dexcom agreed to pay $250 million in stock to Verily, in exchange for nixing a provision in which Dexcom would have paid royalties on joint technology.
Dexcom's G6 system primarily serves Type 1 diabetes patients, but the Verily deal accelerated the company's move into Type 2 diabetes. So did a pilot last year with insurer UnitedHealthcare to determine the effectiveness of continuous monitoring for Type 2 diabetes.
Sayer said the pilot is ongoing.