CONSTRUCTION CO. KNOWS THE TECHNOLOGY AND TASTES OF PRACTICES
Pacific Keeps Building Client List With Law Firms
Sunday, June 30, 2019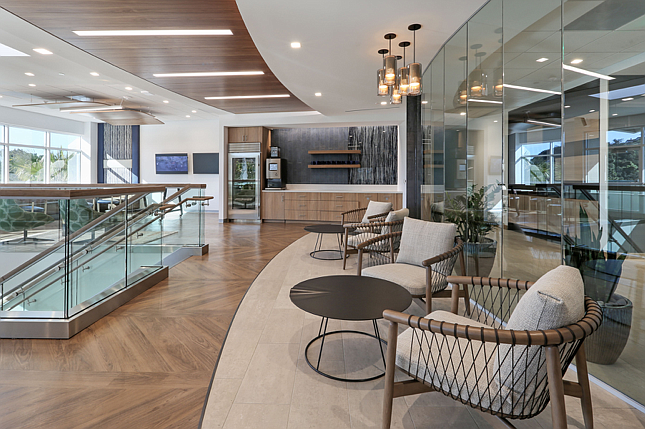 Pacific Building Group recently finished building offices for five law firms and the new look the company created is far from the book-lined stuffy offices of old.
The law firms are going for lots of amenities, more group gathering spaces for video conferencing, and digital files.
It's all about technology and attracting and retaining people, said Jim Roherty, Pacific Building Group president.
"Some of these law firms, you really wouldn't know the difference if you're walking into a law firm or you're walking into space for Google. They've changed that much," Roherty said.
Pacific Building Group has a history of remodeling law offices, but Roherty said the work has changed substantially in recent years.
Law firms still want private offices when they remodel or move, but they're smaller than in the past, partly because more of the work is being done collaboratively in conference rooms, Roherty said
The biggest job of late was building new offices for the San Diego-based law firm of Robbins Arroyo in a 24,000 square-foot building the firm acquired in UTC at 5040 Shoreham Place.
Designed by ID Studios, the new office features roll-up doors, La Cantina sliding doors, all glass office fronts, skylights and upgraded finishes.
Pacific Building Group also built 10,000 square feet of new offices for Kilpatrick Townsend in Del Mar Heights at 12255 El Camino Real.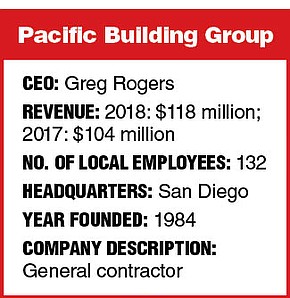 The work included a new heating and air-conditioning system, glass walls and doors and custom millwork.
The architect was Cooper Carry.
Working with architect ID Studios, Pacific Building Group constructed new offices for Perkins Coie in Del Mar Heights that include a sky fold partition, a NanaWall sliding partition, glass office fronts, wood ceilings and drywall soffits and special lighting.
Pacific Builders also remodeled Schor Vogelzang's 4,350 square-foot offices in downtown San Diego at 2170 Fourth Ave., working with architect Miller Design. The company also built expanded office space in the downtown offices of Sullivan Hill at 600 B St. Ware Malcomb was the architect.