SPECIALIST LOOKING FOR INSIGHT ON TROUBLE SPOTS
Netradyne on Path to Gather 2.7M Miles Of U.S. Road Data
Sunday, June 30, 2019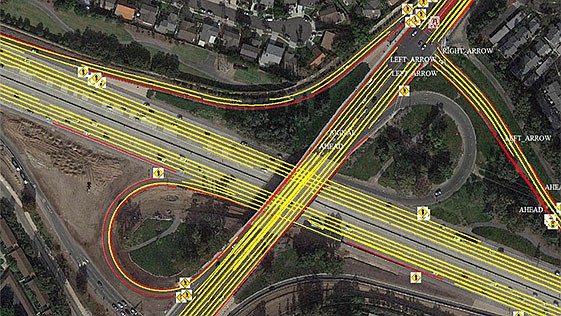 Netradyne has its eyes on the road.
The tech company has set out to document the 2.68 million miles of paved roadways in the United States with its artificial intelligence technology called Driveri (pronounced driver-eye).
Netradyne's cameras and processors are deployed on commercial trucks. They monitor driver safety and inform fleet owners of what happens as a vehicle goes from Point A to Point B. In addition, they collect data on roadways — quite a bit of data.
"We think we're sitting on a data lake here," said Sandeep Pandya, president of Netradyne, who works in the company's San Diego headquarters with about 25 other people. Netradyne has a unique structure with roughly 70 percent of its 140 employees in Bengaluru, India (also called Bangalore).
In June, the venture-funded company announced it had amassed 200 million miles of U.S. road data, with much of it covering duplicate routes. So far it has analyzed 731,000 unique miles of roadway, putting it more than one quarter of the way toward its 2.68 million-mile goal.
Insights about those 731,000 miles are piling up. The data may one day inform autonomous vehicles, Netradyne said.
The business announced that it was working with Hyundai in December.
With the data, Pandya said Netradyne is hoping to create risk maps or "heat maps," showing trouble spots on the roads. These might be places where drivers frequently run through red lights, or fail to stop at stop signs.
The hardware that Netradyne puts in trucks includes the very powerful Nvidia Corp. TX1 processor which can perform 1 trillion calculations per second — or a teraflop.
The Netradyne equipment records entire trips. There are competing products that record only when the truck is jostled, resulting in just 5 to 7 percent of the trip recorded, Pandya said. "Ninety three percent of the data is missed," he said.
Two former Qualcomm Inc. engineers founded Netradyne in 2015. Its financial backers include Reliance Industries, one of the biggest corporations in India.
As for when autonomous cars will be available? Pandya said the most aggressive estimates are in the next year or two, while the "more thoughtful" say such vehicles will be mass-produced sometime around 2030.