CLOUD: RELOCATION, HIRING AND ADAPTING ALL PART OF NEW PLAN
Teradata Leadership Plots Change To Subscription Model
Thursday, June 27, 2019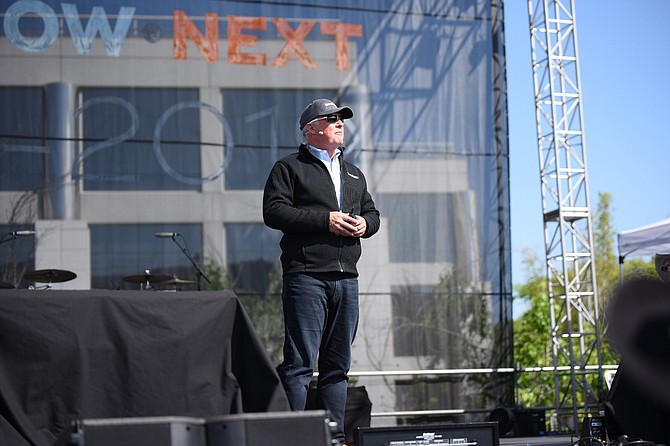 Charged with leading Teradata through the biggest turnaround in its history, new CEO Oliver Ratzesberger took to the stage on June 13. His goal was to rally the hundreds of employees that had gathered there to celebrate the company's 40th birthday.
Ratzesberger, who was promoted to CEO of the company January 14, has a big task ahead. He has been charged with turning Teradata, long known as a data warehousing company, into a cloud-based subscription model, an effort that the company began three years ago.
"Every single one of you has been going through a tremendous amount of change. Unfortunately, it is not done," he said. "We have to drive even more change. We are at the brink of looking like a really great company again."
$2.16 Billion in 2018
The company has had mixed successes so far. Last year, its total revenue remained relatively flat, at $2.16 billion. But more of Teradata's customers have been switching to its subscription model. Last year, recurring revenue counted for 57.9 percent of the company's earnings, and 84 percent of Teradata's revenue came from subscription contracts by year's end, the company said.
Its clients include big-name brands such as Volvo, Verizon, Coca-Cola and US Bank.
Six years ago, when Ratzesberger joined the company as its senior vice president of software, it had begun laying the groundwork for this change, with more of the engineering work shifted to the cloud. Three years later, the company announced its "Teradata Everywhere" strategy, culling its 12 hardware products into one, and highlighting its SaaS options.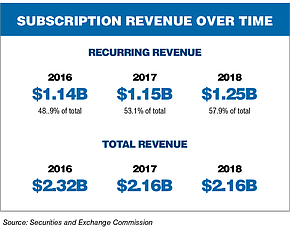 Favoring the Cloud
The move fit with the broader trend of companies favoring subscription-based products in the cloud, and also served to please investors, who like the predictability of recurring revenue.
There was some risk, of course, in steering the legacy company through such a drastic change.
"To be honest, three years ago, we had no idea if customers would even buy a subscription. We knew other companies were doing it, but you don't know until you start it," Ratzesberger told the San Diego Business Journal.
Communicator Role
Outside of the technical aspects of the turnaround, Ratzesberger sees his biggest role with Teradata as a communicator. That includes launching an internal communications platform at the company, and visiting its various branches around the world.
"This is ultimately about communication, communication, communication," he said. "I know it sounds so easy to communicate better, but it's probably the hardest job of the company — to keep everyone informed, to teach them and to coach them on what does it mean to have a strategy, what does it mean to have recurring revenue."
Moving the Headquarters
Teradata has also been trying to get the message out about its new focus through other means. Last October, it rebranded and moved its headquarters from Dayton, Ohio, to San Diego, in an attempt to reframe the company as a hip workplace that is on pace with its competitors in the analytics space. The company also gave its headquarters in Rancho Bernardo a fresh coat of paint, adding on an additional building with a juice bar, gym, and 100 electric vehicle chargers.
Hiring Plans
Teradata hired 150 people to its 1,100-person headquarters this year. It plans to add roughly 350 more by the end of 2019, Ratzesberger said. In the future, the company may expand to a third building next door, which it currently leases out to Northrop Grumman Corp.
"It's a modern workplace. … It's something that inspires people in terms of what we are doing," Ratzesberger said. "It's also exciting to see, six years ago when I joined, hiring technologists or leaders or executives in San Diego used to be much harder. Everybody thought they had to go to Silicon Valley or Seattle. We have now reached a point where San Diego is very attractive, as we're hiring executive talent and new graduates."
Even as the company looks to reinvent itself, Ratzesberger still gave Teradata's six original founders credit for building a culture that could last. Four of the six were present on June 13, including former CEO Jack Shemer, former chief scientist Phil Neches, former head of hardware development David Hartke and former chief financial officer Jerry Modes.
The company started in 1979, just a year before a recession, but inched its way to success, going public almost 10 years later.
"It's worth it — when you work for a goal and you're finally successful," Shemer said, thanking the audience of employees for their tenacity. "It was not an overnight success for Teradata. We had to keep working, and you folks are carrying on that torch and working forward. I have no doubt that you folks will exceed and make Teradata excel."