SHIPPING: FIRST SHIP OF TWO IS PART OF $511M CONTRACT WITH MATSON
NASSCO Launch Is a Big Deal for Shipyard
Thursday, June 27, 2019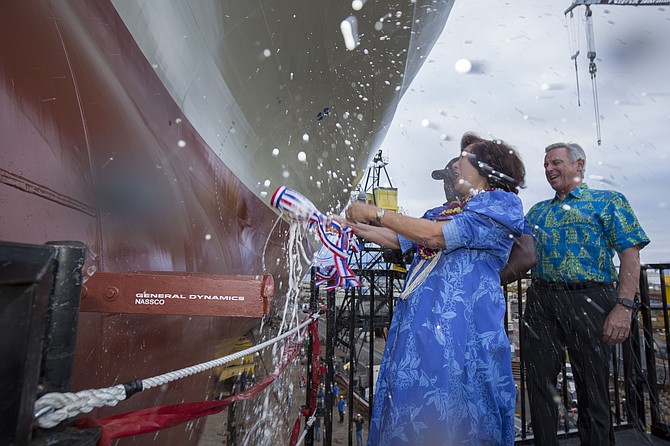 General Dynamics NASSCO launched a newly built commercial container ship June 15 with much fanfare.
The move made room in its Barrio Logan shipyard to erect the second ship under a two-ship, $511 million contract signed with Hawaii-based Matson Inc. in 2016.
But NASSCO is thinking further ahead.
As the first ship, the Lurline, is completed at pier side and the second ship is built from the ground up, NASSCO's business development team is on the hunt for very specialized commercial shipbuilding work among a limited client base.
Domestic shipyards such as NASSCO tend to serve domestic customers. Market forces and the law are two reasons. International shipyards can generally undercut U.S. shipyards on price.
Under the Jones Act, a U.S. law that will pass its 100th anniversary next year, ship lines such as Matson have to buy from an American shipyard when their vessels carry goods between two U.S. ports. Matson plans to send the Lurline on a route between Honolulu, Oakland and Long Beach.
A U.S.-built ship will likely cost about three times the amount of a ship built in China or South Korea, Matson CEO Matthew Cox said, following the ceremony. However, he said there is value to the purchase. Matson specifies additional steel, giving its ships a 40-year service life while a foreign-built ship may only have a 20-year life.
Commercial Opportunities
The San Diego yard has some leads on new commercial construction.
"There are customers out there looking for medium-range tankers and LNG [liquefied natural gas] carriers," said Thomas Carey, program manager for NASSCO's commercial shipbuilding operation. NASSCO has not yet produced an LNG-carrying vessel but has the capability to do so, Carey said.
"We try to stay ahead of the market and the customer," said Dennis DuBard, head of government relations for NASSCO.
NASSCO's last commercial ships were petroleum product tankers for domestic use.
Commercial shipbuilding projects complement the yard's military ship construction and maintenance work. All contribute to the volume of work that the NASSCO shipyard needs to run, said Kevin Graney, president of General Dynamics NASSCO.
Matson carries containers of merchandise to Hawaii, as well as military cargo and mail. The 870-foot-long, 44,200 metric ton Lurline is a combination container ship and ro-ro (roll on, roll off) ship able to carry cars, trucks and buses. It has a capacity for about 800 autos, and a 160-ton ramp at the stern for loading.
The Jones Act
Critics of the Jones Act say it makes the cost of living in Hawaii, Alaska and other territories too high. Ships carrying LNG between U.S. ports would have to comply with the act.
The Jones Act has gotten plenty of criticism lately. In public remarks at the launch ceremony, Graney dismissed such criticism as "uninformed sniveling."
Matson is spending nearly $1 billion to buy four ships, two from NASSCO and two from a yard in Philadelphia.
Prior to building the Matson ships, NASSCO spent $70 million installing a thin-plate panel line, which lets crews weld steel plate as thin as 6 millimeters, or a quarter of an inch. Graney said the line helped the construction of the garage on the ship.
The Lurline's shipping container capacity is approximately 3,500 TEUs, or 20-foot equivalent units. As container ships go, the new Matson ships are fairly small. The largest container ships carry more than 20,000 TEUs.
NASSCO, which stands for National Steel and Shipbuilding, is the last big shipbuilder on the West Coast. The company designs its ships with partner DSEC Co. Ltd. of South Korea, which also supplies materials.
"NASSCO partnered and learned from South Korea — the best shipbuilders in the world," Graney said in his remarks.
Adapting and Reinventing
One theme for the June 15 launch ceremony was the need for business to adapt to circumstances, thinking both strategically and tactically.
Cox, the Matson CEO, spoke of his company's roots in the 19th century. Matson's first ship called Lurline (there have been several), was a 150-foot, two-masted sailing ship able to haul 600 tons of Hawaiian sugar. It cost $32,000.
"We can talk, Kevin," Cox called out to the NASSCO CEO on the platform.
Cox said his company survived its 137-year history by continually adapting and reinventing itself. Shares of Matson trade on the New York Stock Exchange under the symbol MATX.
It is a long process to get a ship ready to slide down the ways into the saltwater where it will spend its working life. Despite the shipyard's and the program planners' best efforts, the Lurline was ready to go down the slightly inclined ways and into San Diego Bay well before its 7 p.m. launch time.
NASSCO's Graney was apparently halfway through his speech at 6:45 when he told the crowd, "I'm getting the hook."
Cox, wearing a bright Hawaiian shirt, left the dignitaries' platform to sprint up several flights of stairs to the platform where Matson board member Constance Lau was to crack the champagne bottle against the ship's hull. She got it on the third try.
The ship made a fast slide into the water, horn blaring, at 6:47.
It is scheduled for delivery in the fourth quarter.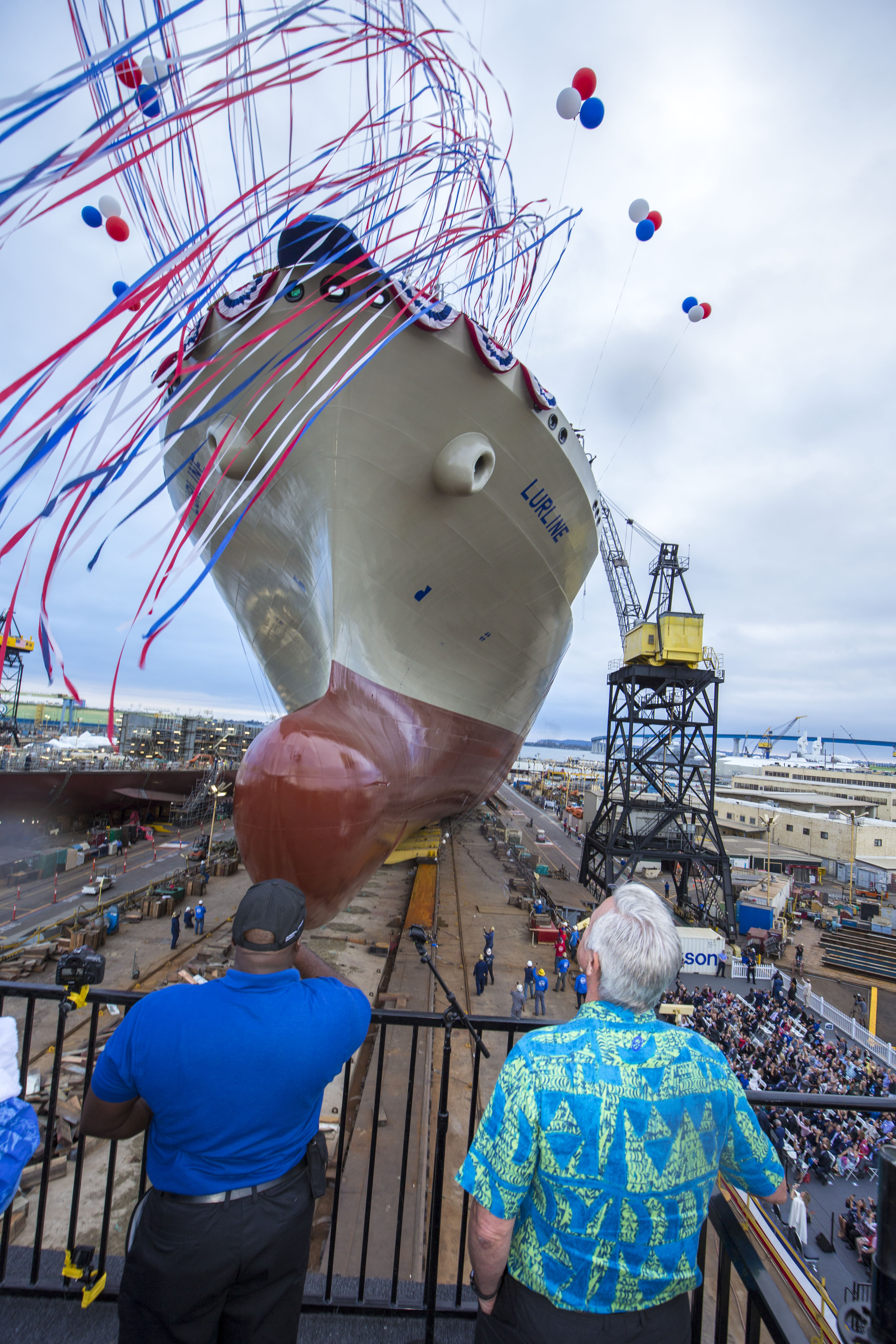 The Next Ship
The second Matson ship, the Matsonia, is about 25 percent done, Graney said. It is in pieces around the shipyard. NASSCO builds its ships in blocks which are then assembled into a whole. In a few days, crews will lay the keel of the Matsonia where the Lurline was. It is scheduled to be launched next summer, with delivery in the third quarter of 2020.
There is plenty of other work going on at the shipyard. With all the work, NASSCO's employee count is now roughly 3,000, which is up 200 to 250 people from one year ago, Graney said. The business has 700 job openings.
The fifth of its U.S. Navy expeditionary sea base ships just completed its sea trials. The ships are meant to support amphibious landings. The Navy recently awarded a contract for NASSCO to buy long-lead parts for a sixth expeditionary sea base ship. NASSCO is negotiating with the Navy over contract terms for its sixth, seventh and eighth ship, DuBard said.
NASSCO is also building six fleet replenishment oilers, which will rendezvous with fighting ships to refuel them. That work will last until the mid 2020s.
"We have one of the best backlogs in history," Graney said.
The shipyard is also preparing to bring a Navy big-deck amphibious ship, the USS Bonhomme Richard, in for repairs.