WORKFORCE: GOAL IS TO CREATE WELL-ROUNDED LEADERS
Extension Programs Embraced By Cos.
Tuesday, June 25, 2019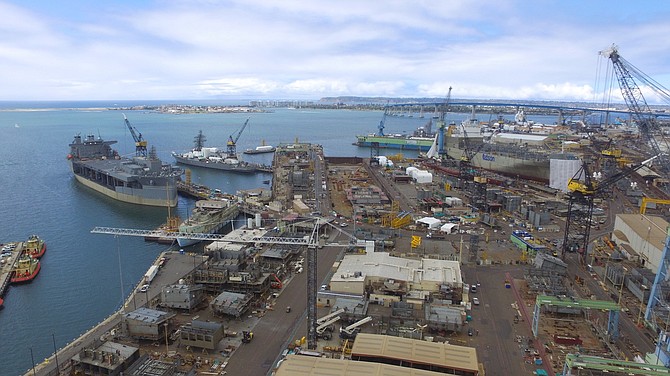 For more than three decades, San Diego's science and engineering companies have relied heavily on two University of California, San Diego Extension programs to help their managers develop business and leadership skills.
"They are a big part of growing our workforce," Treavor Callum, director of ships management at General Dynamics NASSCO, said of Executive Perspective for Scientists & Engineers (EPSE) and the Leadership and Management Program (LAMP). "You always are searching for leadership development options to help folks along the path. It's all about leadership."
Dee Wilson, vice president of engineering at General Atomics Aeronautical Systems Inc. said it is a good resource for GA ASI.
"UCSD has a world-class program we can utilize," he said.
For businesses to develop comparable in-house training programs it would be costly and inefficient, Wilson said. More than 2,500 management employees have attended the programs. EPSE and LAMP held their annual graduation ceremony last month.
The many companies that have sent employees through the programs include BAE Systems, Collins Aerospace, Hologic Inc., Illumina Inc., Northrop Grumman Corp., Qualcomm Inc., and Viasat Inc.
For Mid- and Senior-Level Scientists
EPSE's nine-month training program addresses the need for professional development among managers. It is designed for mid- and senior-level scientists and engineers with several years of supervisory and operational experience.
The five-month LAMP program teaches leadership skills to new and midlevel professionals who are assuming management roles. More than one-third of LAMP graduates soon are promoted to higher levels of responsibility.
The programs attract employees from both large and small companies. Because many businesses have reduced their budgets in recent years, they are leaning more heavily than before on the UC Extension to provide leadership training, said Tom Dorosewicz, EPSE and LAMP program director.
Mark Olsson, president and CEO of SeeScan and DeepSea Power & Light, said the programs show students how to view themselves as part of an organization. Sometimes scientists and engineers are focused on their own jobs when they should be thinking of ways to support the overall company, he said. "I think the program gives them a more effective toolkit for doing that."
The cost of sending an employee through EPSE is $11,900, while the cost of LAMP is $7,745. They are well worth the cost because of the skills and new perspectives their graduates bring back to the employers, Callum said.
So far about 1,500 people have completed the EPSE program, while about 1,000 have gone through LAMP. EPSE started in 1984, and LAMP began in 1986.
EPSE is the only non-degree program in the UC system that awards a diploma because it is so comprehensive, UCSD's Dorosewicz said.
General Dynamics NASSCO has been using the programs for more than 20 years, Callum said. The exposure students have to other managers from diverse backgrounds broadens their outlook and helps them develop new methods for solving problems, he said. "It's helpful to step out of your own environment."
Key Lessons in Strategic Planning, Finance and Marketing
"The more diversity we have, the more students will get out of it," said Dorosewicz. "We give them skills in finance and marketing and strategic planning that they probably wouldn't have gotten anyplace else."
Classes for both programs are capped at 25 to 28 students. They meet weekly, and sessions last less than six hours. The instructors are experts in various fields.
"That is one of the advantages that we have in being tied to the university," Dorosewicz said, of instructors. "In some instances it's people who are professors or lecturers within the UC system. You need to find the right instructors who can keep it interesting and challenge students."
Although EPSE and LAMP students are high performers, "everybody checks their ego at the door" so they can be open to learning from one another, Dorosewicz said.
During their training, EPSE students create fictional business ventures while working in teams, he said. Students develop product ideas and business plans.
"They put their financials together," he said. "They write a 40-page business plan. When they're done we have them put it into a PowerPoint and present it to industry experts we bring in," Dorosewicz said.
Communicating effectively
The programs help managers learn to communicate their ideas more effectively, said Michael Reeves, the engineering director at Collins Aerospace in Chula Vista. Although the training is time consuming, administrators manage to strike a balance between pushing students academically and leaving them enough time to perform their regular jobs.
"It is a highly regarded program within our organization," said Reeves, who has participated in both EPSE and LAMP. "It's encouraged for younger and midlevel leaders."
Students who attend EPSE receive useful training in problem solving, said Scott Byrnes, Northrop Grumman's director of communication, navigation and identification products and a graduate of the program.
Teamwork
In his class, students were taught about finance, presentation, and negotiation, he recalled. There was a strong emphasis on working in teams and exploring different ways to resolve issues.
"When you get into a diverse group, it's surprising how many solutions you can come up with," Byrnes said.
Misha Golynskiy, a senior scientist at Illumina, said EPSE exposed him to a variety of subjects outside his own field.
"For things a little bit outside of our wheelhouse, I think it was a good introduction," he said. "It was an excellent first exposure. There is a lot to be gained. You get what you put into it."
Lasting Connections
One of the benefits is being able to form lasting connections with managers from other companies, he said. "I have been able to make some good connections," Golynskiy said.
EPSE and LAMP must continually evolve to meet the changing needs of science and engineering businesses in the San Diego region, Dorosewicz said. To make sure this happens, he seeks feedback from participating companies, as well as students. The idea is to keep the programs fresh and grounded in useful areas of study.
Recently, companies began telling Dorosewicz that the college graduates they hire need a better understanding of how corporations function, he said. Because of that, plans now are under way to make corporate culture a part of the LAMP curriculum.