Dinsmore Hires New Litigation Partner Christopher Lyon for San Diego Office
Tuesday, June 25, 2019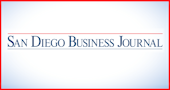 Dinsmore & Shohl LLP, with locations in 24 cities including in California, has hired new commercial litigation partner Christopher Lyon in its San Diego location. Lyon is the firm's third litigation partner in the city, according to the firm.
"It's exciting to add a trial lawyer like Chris to our growing San Diego office," said Joe Leventhal, managing partner and board member, via a statement. "Chris adds significant skills to our bench of trial lawyers."
Lyon has worked in defense of insurance companies in personal injury cases for the last 10 years. At Dinsmore, he'll lead a group of attorneys focused on product liability and breach of warranty claims.
"It's interesting work," Lyon said. "While cases tend to follow a similar pattern, they're all different and they require varying methods to achieve the result we believe is right."
Lyon has practiced law since 2005, when he graduated from Vermont Law School. Prior to that, he received his bachelor's of science from UCSD.
Travel & Hospitality reporter Mariel Concepcion can be reached at mconcepcion@sdbj.com or 858-634-4625.