FAILURE OF MERGING COS TO COMPLY WOULD RESULT IN A MORE IN-DEPTH ANALYSIS
UK Agency Asks Illumina and Pacific to Address Its Concerns
Monday, June 24, 2019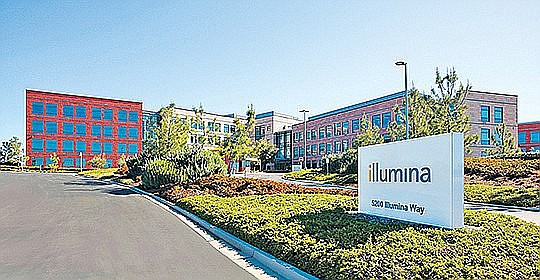 A U.K. competition watchdog said on June 18 that Illumina's planned $1.2 billion acquisition of Pacific Biosciences raises anti-competitive concerns, at a minimum delaying the deal.
The Competition and Markets Authority, or CMA, said the first phase of an investigation showed the acquisition could remove what may be the biggest competitor to Illumina, headquartered in San Diego.
Illumina dominates DNA sequencing with "short read" technology, while Pacific Biosciences occupies a niche making sense of lengthy pieces of DNA.
Sequencing systems shed light on genetic variation, used for research, drug development and clinical tests.
"Illumina is by far the largest supplier of DNA sequencing systems, both in the U.K. and worldwide, and the merging businesses are already close competitors," said CMA in a statement.
"Aside from the merging parties, there are limited alternatives available for customers at present. While some suppliers plan to enter the market in future, it is not clear when they will enter or how competitive their technology will be."
This spring CMA launched an investigation into the deal. On June 18, the regulatory agency said if the companies don't address concerns, the matter would be referred to a more in-depth phase 2 analysis.
A denial from CMA would likely kill the acquisition, the view of Shawn Baker, who heads SanDiegOmics.com, a genomics consulting company.
Baker said CMA only has the power to stop sales in the U.K., but the U.K., China and the U.S. represent such large markets that a kibosh from one is often enough to torpedo a deal.

In addition, he said, antitrust action in the U.K. can snowball to the rest of Europe.

Illumina originally said the deal would close midyear. In a statement the company pushed back the timeline to the fourth quarter.
Baker said that's no big deal for Illumina, but could be for Pacific Biosciences. The Menlo Park company has struggled to reach profitability.
Pacific Biosciences' stock fell 4% following the CMA announcement. Illumina shares were flat.
Baker argued in favor of the tie-up, saying Illumina is better positioned than competitors to advance Pacific Biosciences' technology. He added fears that the acquisition will take pressure off Illumina to lower prices are unwarranted because other companies are more likely to challenge Illumna on that front.
In April, Maxx Chatsko with financial publication The Motley Fool said CMA may be trying to protect U.K.-based Oxford Nanopore Technologies.
Oxford Nanopore's latest platform is meant to rival Illumina's Novaseq system, though industry watchers have questioned whether the accuracy matches Illumina's.
Under the Enterprise Act 2002, CMA has the power to review mergers in which the combined entity would provide at least 25 percent of services in the U.K., according to the agency.