Oska Wellness Takes in $5.5M Seed Round
Monday, June 24, 2019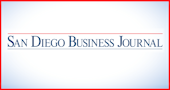 Oska Wellness — maker of a portable device that's pitched as a drug-free alternative for pain management — raised $5.5 million in seed funding.
With greater demand for opioid alternatives, the Carlsbad company said its device, Oska Pulse, uses electromagnetic field technology to speed up the repair of injured cells and increase blood flow.
It's geared toward chronic or acute pain, including for the back, knee, joint, muscle and more.

For consumers, the device can be obtained online, and the company is moving into health care channels. Oska said it's eligible for reimbursement through flexible spending accounts and health savings accounts.
Investors in the seed round included Leslie Cross, the CEO of Carlsbad-based Alphatec Spine, and Luke Faulstick, CEO of South Dakota Partners and former chief operating officer of DJO Global.
Oska formed in 2015.