ARCHITECTURE, DESIGN DEBATES PUT SPOTLIGHT ON THE BUILT ENVIRONMENT
Orchids and Onions Program Is Designed To Start a Conversation
Monday, June 24, 2019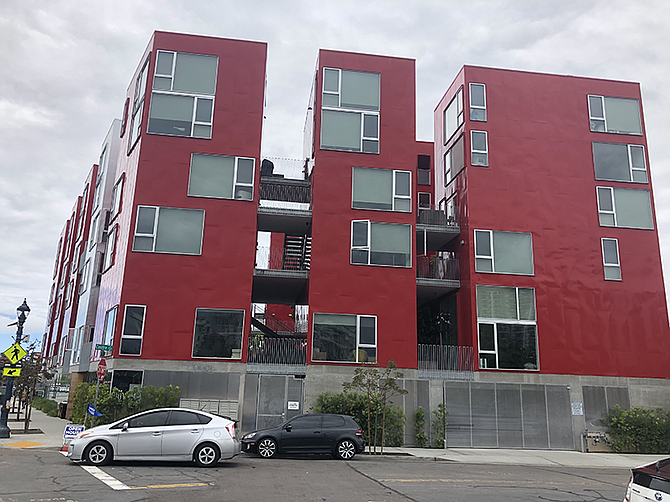 The stinkers of the year among San Diego's new buildings will soon be picked in the San Diego Architectural Foundation's annual Orchids & Onions program, along with those that exemplify the best projects of the year.
Orchids go to those that stand out as models that others would do well to emulate.
Onions go to those that stand out as something you'd rather not see repeated.
Anyone can nominate a project as a stinker or a gem, but the deadline is July 6.
Onions from 2018 included Point Loma Fire Station 22, a mixed-use apartment complex — Eitlol in Hillcrest — and a condominium project — The Park Bankers Hill overlooking Balboa Park.
Eitol actually got mixed reviews but it wound up with an onion anyway, said Laura Warner, co-chair of the Orchids & Onions program.
The cutesy name alone might be a little off-putting. It's a takeoff on the building's location on Lot 13 and its street address — 1642 University Ave., according to the building's website. Spelled backwards, Eitol also sort of spells out lot 13 if you take the letter i as the number one and "E" as the number three.
"People really appreciate that space as a gathering space for the gay community and the social spaces are very well done and the restaurant spaces are well done," Warner said. "It's a very important building in the community. It was very creatively designed but it is kind of front and center and I think people noticed it. It meets some of the standards of orchids but there are a few things about it that made it an onion."
Some critics thought the bright red color of the building's façade was a bit much and weren't happy with the overall appearance of the oil-canning metal that creates a wavy look to the façade, Warner said.
No one really liked the fire station, which critics said was a mish-mash of styles.
"It didn't have one design or approach to it and some of the building wasn't as good as it could be," Warner said.
Among the projects drawing kudos in 2018 to win orchids was Del Mar's new civic center overlooking Main Street.
"The top level has a plaza space that overlooks this beautiful oceanfront," Warner said. Getting an orchid can help those involved in the project while an onion could hurt, Warner said.
Warner said the purpose of the Orchid & Onion program is "to have a discussion about what works and doesn't work in the built environment" from building interiors and exteriors, parks and other public places.
"Orchids & Onions is meant to create awareness about the built environment and architecture and have the public at large get information on the importance of it to our everyday lives," Warner said.