PLAN IS TO OUT-TECH, OUTPRICE COMPETITION; CO. TAPS CROWDFUNDING
Startup Designs Car Alarm That Has a Sensitive Side
Sunday, June 23, 2019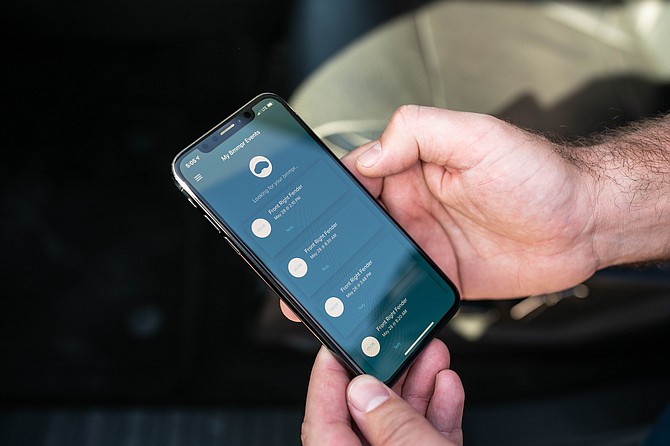 One moment on a road trip inspired car enthusiast Marko Mandaric to found his startup, Bmmpr. He and his wife were driving to Seattle, and stopped briefly at a grocery store.
"It dawned on me how silly car alarms are," he said. "They don't really tell you when something's going on with your vehicle."
Three weeks later, Mandaric had built a prototype. The small dongle could be plugged into a vehicle's diagnostics port, and text the user if their car has been disturbed. He tested it by throwing a tennis ball at his 1965 Mustang — it worked.
"My jaw dropped," he said. "It's one thing to have an idea. At some point, everybody needs a reality check. My wife and I personally made a commitment to fund everything until we could get to crowdfunding."
Later on, Mandaric sold the vintage Mustang to help fund the business.
Mandaric and his wife founded the company in 2017. After the tests succeeded, they launched a crowdfunding campaign on Indiegogo. To date, they have raised $59,529 from 282 backers, as well as capital from two outside investors.
Since then, they have moved from working out of their apartment to a 1,500-square-foot office space in the I.D.E.A. District in East Village. Bmmpr's team has also grown to about 20 people.
"We're right next to a lot of up-and-coming startups," he said. "I'm very thankful. The team we've built is without words."
Mandaric said he plans to use the new space for programming, development and shipping out Bmmpr's devices. The company currently has about 1,500 units that they will finish the programming before shipping them.
The device can currently detect impacts, from something as small as a tennis ball to a rear-end collision. In the future, Mandaric also plans to add features to detect towing. The device is compatible with vehicles from 1996 and newer, because it uses the power from diagnostic ports, but it can be retrofitted for some older models.
Mandaric's goal is to outprice and out-tech its competitors. Some car alarms can alert phones through Bluetooth, for example, but they have a very limited range. Other offerings with cellular connectivity can cost upward of $30 to $50 per month, he said.
Bmmpr's device currently retails for $249, with a $25 annual service fee after the first year.