CV'S CEO SAYS DEAL WILL BOOST ACCEPTANCE OF CBD PRODUCTS
Kroger Deal Expands CV Sciences' Retail Presence
Sunday, June 23, 2019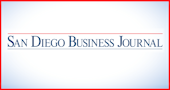 CBD is no longer relegated to coffee shops and health food stores.
CV Sciences recently touted a CBD distribution deal with a major grocer, as well as a first-of-its-kind clinical trial.
The company's CBD oil will be sold in 945 Kroger-owned stores across 17 states, the company announced.
With the deal, CV Sciences is poised to have products in 4,591 retail stores.
"We are at the beginning of what we believe will be broad acceptance of CBD products across national FDM (food, drug and mass) accounts," said CEO Joseph Dowling in a news release, which highlights CVS as another retail partner.
CV Sciences is technically based in Las Vegas, but nearly all operations are in San Diego.
CBD, which doesn't get people stoned, is one of the many compounds found in the cannabis plant. While some CBD advocates tout health benefits, there has been little in the way of rigorous testing.
Looking for substantiation, CV Sciences said in a news release that a clinical trial showed evidence its PlusCBD Oil improved sleep and reduced appetite.
The randomized, double blind trial included 65 overweight but otherwise healthy men and women who followed their normal routine and self-reported quality of life measures. There were no adverse effects, based on standard safety markers, the company said.

"This study is an important contribution for all stakeholders, as it represents the first randomized clinical trial that we are aware of regarding the safety and efficacy of multiconstituent hemp CBD extract in healthy human subjects, and we hope it will serve as a template for further research into the many potential benefits of this fascinating compound," said Hector Lopez.
Lopez is the co-founder of The Center for Applied Health Sciences, which conducted the clinical trial.
The 2018 Farm Bill removed hemp-derived CBD from the list of Schedule 1 controlled substances, making research easier.
"When hemp was treated as a controlled substance it was nearly impossible for researchers to comply with DEA rules. Now that hemp is legal, all stakeholders are supportive of new science that helps us understand the health benefits of hemp derived CBD," CV Sciences said in a statement.
Besides consumer products, CV Sciences developed a synthetic-based CBD that aims to fight addiction to chewing tobacco and other smokeless products. The program is in the preclinical stage.