AIRCRAFT REPORTEDLY COSTS A FEW MILLION DOLLARS
Kratos, Air Force Put Drone to Test
Sunday, June 23, 2019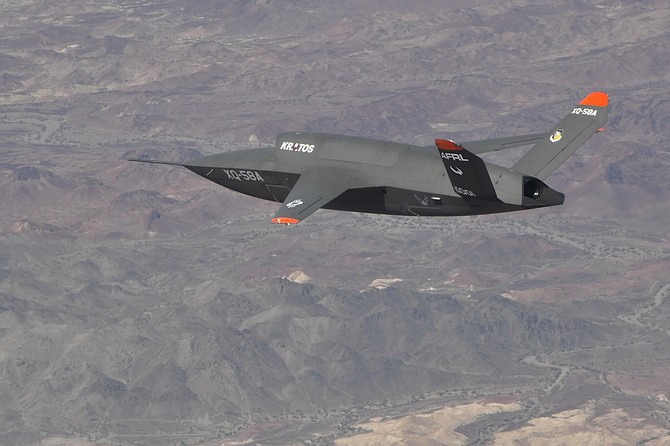 The unmanned tactical aircraft called the Valkyrie from Kratos Defense and Security Solutions Inc. passed another milestone on June 11, making a 71-minute test flight.
It was the second flight for the aircraft, also known as the XQ-58A. The first flight was in March. A total of five flights are planned.
The aircraft is envisioned as a "wingman" to a pilot in a companion aircraft, perhaps a modern fighter.
Kratos (Nasdaq: KTOS) developed the aircraft with the Air Force Research Laboratory, or AFRL, under the U.S. Air Force's Low Cost Attritable Strike Demonstrator program.
The demonstration reportedly drew attention at the aviation event of the summer, the Paris Air Show, which ran June 17-23.
Defense News reported from the show that the Air Force was considering buying 20-30 copies of the Valkyrie.
A Kratos representative at the show reportedly told Flight Global that the first 99 copies of the XQ-58A will cost $3 million apiece, with subsequent copies selling for $2 million. Kratos owns all the intellectual property associated with the aircraft.
The Flight Global report also said Kratos has 10 jet-powered tactical drone models in various stages of development. Some are going into production.
The Valkyrie's most recent test flight was at the Yuma Proving Grounds in Arizona. In a statement, the Air Force said that during the five test flights, it plans to evaluate system functionality, aerodynamic performance, and launch and recovery systems. The Valkyrie does not need a runway to take off.
"The XQ-58A is the first Low Cost Attritable Aircraft Technology flight demonstrator with UAS technology to change the way we fly and fight — and build and buy," said Air Force program manager Doug Szczublewski in a statement distributed by the service. UAS stands for unmanned aircraft system.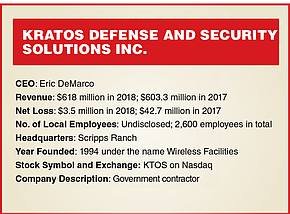 Kratos' drone business is built on the foundation of an airborne target aircraft business that it bought in 2012. The San Diego corporation paid $155 million for Composite Engineering Inc. in Roseville, near Sacramento, which specialized in jet-powered drones.
Earlier this year, the corporation cut the ribbon on a second factory for unmanned aircraft, in Oklahoma.
Kratos bought a majority interest in a Florida company that makes jet engines this year.