Firm Opens REIT Option to Average Investors
Sunday, June 23, 2019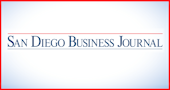 Feeling nervous about the stock market?
You don't stay up late enough to take advantage of offers to buy gold on late night television commercials?
Change your investment strategy.
DiversyFund announced it has received qualification from the SEC to lower the minimum amount required to invest in its REIT (commercial real estate investment trust) to $500.
In the past investors had to meet a substantial wealth requirement to make such investments.
Now, the San Diego-based fintech company has official approval.
"We went through a rigorous screening process with the SEC to gain the qualification we needed to open up access to these exclusive deals and make investment minimums affordable for everyday Americans," said Craig Cecilio, co-founder and CEO of DiversyFund. "We're thrilled we can now give people the choice to invest for as little as $500. We're ready to grow our community of next generation investors and start closing the wealth gap plaguing our society."
According to the company, DiversyFund doesn't charge any platform or management fees.
It manages the process from purchase to sell.
"DiversyFund doesn't make money until its investors make money — after the sale of the properties," the company said.
• • •
When you open that cabinet under the sink, it is the one item that visually jumps out at you.
That blue and yellow design makes it seem like the can is wearing a superhero outfit, which at times seems appropriate for WD-40.
WD-40 Co.'s board of directors recently announced a quarterly dividend of 61 cents per share, payable July 31 to stockholders of record at the close of business on July 19. The San Diego company, a manufacturer of household and multi-use products, had net sales of $408.5 million in 2018 and has a market cap of $2.25 billion.
The company got on a more sustainable path in 2012 with its subsidiary WD-40 Bike Co., selling a line of cycling products.
• • •
Guild Mortgage has announced a new mortgage option in partnership with Airbnb that considers short-term rental income from Airbnb as an acceptable source of qualifying income on refinance applications for owner-occupied primary residences.
The host's existing mortgage does not need to be with Guild.
"At Guild, we're always working to offer niche mortgage programs and initiatives that serve more homebuyers and current homeowners," said Mary Ann McGarry, president and CEO.